Bachelor in International Culinary Arts Management
The Bachelor in International Culinary Arts Management will allow you to become a professional, creative, innovative and responsible manager in the gastronomy, cooking and culinary events sectors.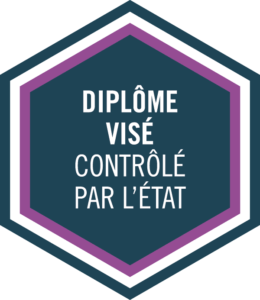 Bac+ 3 Bachelor's degree in International Culinary Arts Management approved by the Ministry of Higher Education and Research*.
*Official Bulletin n°31 on 24 August 2023 
Qualification: State approved Bac+3 Bachelor's degree
Duration: 3 years (180 ECTS)
Entry requirements: Bac or international equivalent
Start date: September
Language(s): French or English
Attendance: full-time. Combination of theory, practice and hands-on professional experience.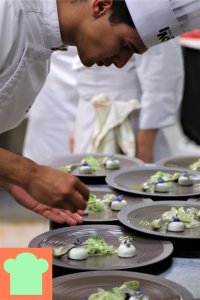 Are you passionate, creative and meticulous? Do you enjoy expressing your unique identity? You can become a professional, responsible and caring manager of the future, at the cutting edge of the latest trends in culinary arts, sensitive to sustainable development and nutrition. Throughout the duration of your Bachelor's degree in International Management of Culinary Arts, we will support you to acquire the technical, operational, managerial and entrepreneurial skills necessary for a successful future, and to become an engaged ambassador for French gastronomy and the French art of living, whether you want to run a gourmet restaurant in a large hotel, launch your entrepreneurial career with your own establishment in, or join a company as a consultant in France and internationally.
---
The art of learning
Resolutely experiential and immersive, our training alternates theory and practice to firmly anchor your learning and develop your skills. 50% of your course will be dedicated to professional experience within our 6 training restaurants (Michelin-starred, bistronomy, traditional, fast food, experimental, pop-up) serving real clients, and practical work in our kitchen laboratories (groups of 10 students).
During your training, you will gradually adopt a professional and managerial attitude that will allow you to hit the ground running in your working life: team spirit, leadership, management, communication, analytical skills, and decision-making. From the 2nd year, you will gain management experience while supervising the work of 1st year students.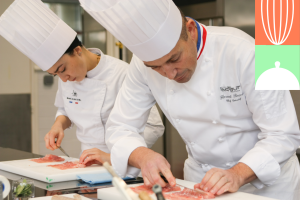 *Given only as examples
YEAR 1: Develop your curiosity and your analytical skills
Fundamentals of the techniques of culinary arts and haute cuisine
Fundamentals of sauces and derivatives (Sauce School, in partnership with Chef Yannick Alléno – 3 Michelin stars)
Management of culinary operations
Management sciences: marketing, management, CSR, human resources, accounting
Food science
Languages: English or FFL (French as a Foreign Language)
14-week placement
YEAR 2: Effective reasoning and stimulating your creativity
Advanced culinary techniques
 Menu creation and cost control
Advanced management sciences: marketing in food service, sustainable development management, human resources, etc.
Contemporary sauces 
Product knowledge: wine and cheese
14-week placement or international mobility in one of our partner schools
YEAR 3: Decision making and developing a bold spirit
Innovative culinary techniques
Sauces of the world: fermentations, broths and marinades  
Experiential marketing, diversity management
Restaurant design and culinary trends
Supply management, performance analysis, business management
Final-year project: get started in entrepreneurship with the creation of restaurant concepts (from business plan to implementation)
You will choose a specialisation allowing you to develop in-depth expertise in these areas: gourmet cuisine, Japanese cuisine and culture*, well-being and eating well* by Institut Michel Guérard 3*, bistronomic cuisine.
* Only accessible in French course.
Minimum 14-week placement 
School of Sauce: an exclusive module
Institut Lyfe has teamed up with the chef Yannick Alléno, who holds 3 Michelin stars and is a renowned creator of contemporary sauces, to establish a unique course dedicated to the art of sauce-making, a pillar of gastronomy. 90 hours of lessons spread over the 3 years give you a firm grounding in the principles and fundamentals of the French sauce-making tradition, while allowing you to master new techniques such as extraction or cryo-concentration, which characterise the new generation of sauces
---
Learn with the best: 43 professional chefs from leading establishments, including a team awarded the Meilleurs Ouvriers de France.
Practise in a unique technical environment: 15 cooking laboratories, 6 training restaurants, including a Michelin-starred establishment.
Enrich your skills in contact with leading guest chefs: Michel Troisgros, Régis Marcon, Christophe Roure, Jean Sulpice, Michel Roth, Serge Viera, Yannick Alléno, Julien Sebbag, and more.
Become a "serial entrepreneur" by creating and operating your own pop-up food service concept as part of your studies.
Open your mind to the world, thanks to the diverse range of student nationalities represented on campus and the courses available at our partner universities.
Benefit from personalised career support and consolidate your professional path thanks to a team of coaches.
---
Our postgraduate courses in culinary management:
---
YOUR FUTURE WILL AMAZE YOU
VARIED PROFESSIONAL PROSPECTS AND INSPIRING CAREERS
Chef de cuisine
Catering chef
Personal chef
Entrepreneur
Culinary production consultant for businesses
AS WELL AS…
Trainer
Purchasing and supply manager
Manager in air, rail or maritime catering
F&B Manager
Food writer
What have they become ?
---