Learn from the best
Our international teaching staff brings together academic experts and specialists in our sectors. No less than 235 multidisciplinary professionals and teachers, including 85 permanent staff, pass on our students the technical and managerial fundamentals of our professions in all aspects of the hospitality, food service and culinary arts sectors.
This complementary approach combining practice and theory, which lies at the heart of our teaching method, allows our students to make concrete connections between theoretical knowledge and professional applications.
Discover your best alongside the best
Operational excellence to master the future
Our culinary education is based on the shared experience and skills of more than 40 chefs and pastry chefs from prestigious maisons and including Michelin-starred chefs, Meilleurs Ouvriers de France, winners of the Bocuse d'Or and much more. They contribute their passion to transmit their experience and know-how with discipline and compassion, and invite you to use this to create your own individual culinary journey.
Nutritionists, culinary designers and food science researchers also open your mind to the challenges of tomorrow.
Want to prepare for your future career in hospitality or food service? Our excellent educators will also support you along this path: Meilleurs Ouvriers de France Sommeliers, award-winning Mixologists, Maître d'Hôtel and Hotel Managers with exceptional courses that will teach you the art of French hospitality.

An academic community committed to your success
Our school also calls on a multicultural community of highly qualified teachers and researcher-teachers in management sciences (management, finance, human resources, marketing, languages, etc.), 67% of whom hold a PhD or Accreditation to Supervise Research (HDR), to develop your sense of analysis and your capacity for creativity and action.
The research work of our teaching staff advances knowledge and feeds the content of our programmes to train innovative, responsible decision-makers and managers, capable of understanding and anticipating the changes in our sectors.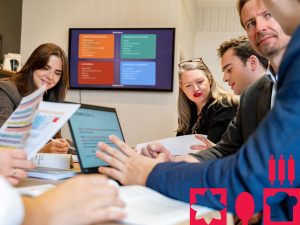 Close links with the academic and professional world
External speakers from the best universities and schools in the world (e.g. University of South Florida, Breda University, University of Strasbourg) complement and enrich our curriculums.
Working closely with the world of enterprise, many prestigious guests from gastronomy and hospitality as well as the worlds of design and luxury come to share their expertise in their chosen field with our students: an undeniable asset for your entry into the professional world.