Restaurant Business Management and Entrepreneurship specialisation
Whether you choose to set up your own business or manage several restaurant divisions in a major international group, our new Restaurant Business Management and Entrepreneurship specialisation will provide you with the skills and expertise to become an engaged, creative and responsible leader in a sector undergoing radical change.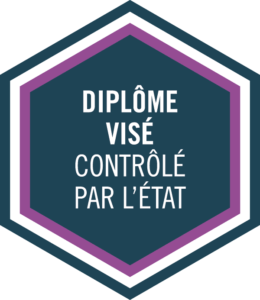 Degree in Hotel and Restaurant Management (4-year) registered and approved by the Ministry of Higher Education and Research*.
*Publication in the Official Bulletin n°31 on 29 August 2019
Qualification: Bachelor (Hons.) State Certified Level II Qualification
Length: 7 months full-time (60 ECTS)
Languages of instruction: French/English
Start date: January 2023 
Entry requirements: We welcome applications from anyone who has completed a 3-year higher education degree or equivalent
Careers: Multi-site restaurant manager, Resort catering manager, Franchise director, Food tech entrepreneur

Shape and inspire the restaurant industry of the future
The restaurant sector is a fast-moving market undergoing rapid and radical change involving societal and environmental responsibilities, new business models, digitalisation and robotisation, creation of new customer experiences, and more …
Are you interested in all types of food service, whether gastronomic, fast food, street food, banqueting, or airline, etc.? Do you have a creative mind and are you always on the lookout for emerging trends in the restaurant industry and the new technologies associated with them? Are you determined to assert your identity as an inspiring, innovative and responsible decision-maker?
Tomorrow, you will have the knowledge and skills to manage a wide range of restaurant concepts and sectors (hotel, resort, collective catering, event catering, etc.).  Or, why not choose to become an entrepreneur and create your own concept, take over a family business or manage a franchise network?
Focused on the trends and changes in our sector and on new managerial practices, the Restaurant Business Management and Entrepreneurship specialisation has been specifically designed for students who want to play an active and inspirational role in the restaurant industry of tomorrow.
---
Course overview
Reveal your true leadership potential
Structured around a hands-on, action-based learning approach, our programme offers you a 360° vision of the restaurant sector, with modules covering multi-site and multi-concept management, operations management and entrepreneurship. You will benefit from individual support and guidance in developing your career project.
In the first semester, you'll develop an in-depth understanding of the restaurant ecosystem and the future challenges related to new business models, changing consumer behaviour, trends and innovations, offering you a forward-looking vision of a sector undergoing radical change.  You will develop key skills in operations management applied to multi-concept and multi-site environments, while developing a unique understanding of global business performance, digital leadership and strategic management.
In the second semester, you will learn about responsible management and we will equip you with the tools and keys to design amazing customer experiences and impactful communication strategies.  At the end of these two semesters of study, you'll have the possibility of choosing either the Restaurant Business Management option followed by a 6-month internship, or the Entrepreneurship option followed by the incubation of your project. 
Throughout your programme of studies, you'll benefit from personal development & leadership modules and workshops designed to build your self-confidence and ensure your first steps into the world of business are a success!
Course features*
*Given only as examples
Economics, market trends and creativity
Management of restaurant operations
Restaurant and catering regulations
Restaurant economic performance management
Service design
Digital evolution in hospitality
Responsible management
Innovation and strategy
Financial analysis in Hospitality
Communication and modern foreign languages
Personalise your career project by choosing between two specialist modules:
Commercial catering and F&B management
Entrepreneurship and restaurant business takeover
At the end of the selected module, you will complete a 6-month business internship or receive special support and guidance in the realisation of your entrepreneurial project thanks to the Institut Lyfe business incubator.
---
Why choose us?
Institut Lyfe: a leading school for those who dare
Benefit from innovative training, developed by seasoned restaurant professionals, including Food Service Vision, the expert consulting firm specialising in trends in the away-from-home food sector.
Give yourself the resources to develop and achieve your career project: thanks to seminars, case studies, business experience and sharing of experiences with experts from the restaurant industry, our programme is a powerful catalyst for career success.
Benefit from the strength of our dynamic network of graduate entrepreneurs around the world. More than 400 businesses have been created to date.
Ensure yourself an inspiring and international future: 80% of our new graduates take up managerial positions in their first job. 33% of our graduates choose to become entrepreneurs within 5 years of completing their studies.
---
WHAT FURTHER STUDY OPTIONS ARE AVAILABLE?
---
YOUR FUTURE WILL AMAZE YOU
VARIED PROFESSIONAL PROSPECTS AND INSPIRING CAREERS
Multi-site restaurant manager
Franchise director
Restaurant concept creator
Food tech entrepreneur
Resort catering manager
---