Strategic Meetings and Events Management specialisation
The specialisation in Strategic Meetings & Events Management will enable you to become a true event conception and strategy leader, equipped with the know-how and skills to improve the visibility and profitability of your organisation.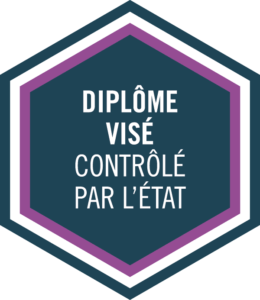 Degree in Hotel and Restaurant Management (4-year) registered and approved by the Ministry of Higher Education and Research*.
*Publication in the Official Bulletin n°31 on 29 August 2019
Qualification: Bachelor (Hons.) State Certified Level II Qualification
Length: 7 months full-time (60 ECTS)
Languages of instruction: French/English
Start date: January 2023 
Entry requirements: We welcome applications from anyone who has completed a 3-year higher education degree or equivalent
Careers: Meeting planner, Event manager, Wedding planner, Hotel catering director, Convention center director
Event management for business development
The events sector has experienced impressive growth over the past twenty years and has been able to reinvent itself with the health crisis. As a major activity in the hospitality and food service industry, events management has become a strategic element in the differentiation of products and services. It also offers exciting and varied career opportunities in terms of work environments.
This course is for agile, rigorous and creative people who enjoy organizing and giving satisfaction to others.  We will equip you with the planning, event management and communication skills required to successfully organize a wide range of events.
---
Course overview
Learn how to design a successful events strategy
The specialisation in Strategic Meetings & Events Management covers all areas of events management from project management, destination selection, budget management, strategic planning, as well as supplier and sub-contractor relations. This expertise will be an advantage during your professional interviews.
Course features*
*Given only as examples
Strategic and operational management of events
Planning and corporate events
Budget and finance applied to the event
Negotiation, contracts and invitation to tender
Organization of sustainable events
Marketing & sales
Organization of virtual events, weddings, conventions, trade shows and festivals
Optional work placement at the end of the course
---
Why choose us?
We will make a great team together
You will be given the opportunity to confront your knowledge and understanding with 'real world' situations in 4 team-based projects.
With 72 different nationalities represented on campus, you will develop your ability to work in culturally diverse work environments.
Build yourself an inspirational and international future: 80% of our graduates' first jobs are as managers, moving up quickly to senior management positions within two years.
---
WHAT ARE THE OPPORTUNITIES FOR FURTHER STUDY?
---
YOUR FUTURE WILL AMAZE YOU
VARIED PROFESSIONAL PROSPECTS AND INSPIRING CAREERS
Meeting Planner
Convention / exhibition center director
Association manager
Event manager
Hotel catering director
AS WELL AS…
Wedding Planner
Event designer
Consultant
Major event coordinator
Event communication manager
---