Personalised support for students
There are no cookie cutters at Institut Lyfe (formerly Institut Paul Bocuse)! Our Talent Managers support you on a daily basis, they will help you to define your professional path, and to develop your soft skills and self-confidence. Our winning trilogy: transmit, support, flourish.
You already have the talent, we give you the tools to express it
Our Talent Managers are experts in human resources who will help you in designing the professional path best suited to you, in your placements, and in boosting your employability. Supported by your coach, you will make strategic choices and work to develop your strengths and your potential. Your training, placements and experiences will be true professional springboards.
You will be supported in both collective and individual ways:
Collective work via small group workshops (writing your CV and cover letter, work on soft skills, etc.);
Individual and personalised work with each of the students so that their ideal future converges with the world of work.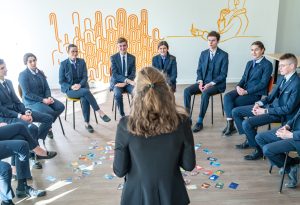 ---
The Talent Manager, a key player in your training 
The Talent Manager performs a double function:
Providing advice: closely linked to your professional path, they will guide you in the elements necessary for your CV, and in discovering new professions or careers that you never would have dreamed of! The Talent Manager will ask you to reflect on your choice of placements, and on your dreams.
Providing coaching: enabling each student to develop their emotional intelligence and confidence along with soft skills that will make the difference from the very first professional experiences. Your coach will also help you to identify your passions, strengths and areas of progress.
---
Placements – boosting your employability
You will be supported throughout your studies as well as during your placements. Visits will be made to the business in order to evaluate progress with the students and their managers.
In the case of placements abroad, remote meetings will be organised with students and the company.
The Time For Respect initiative, set up by the Institut Lyfe, offers a secure framework where inappropriate behaviour is prohibited and inclusion is fundamental. More than 1,000 institutions who host our students have already signed up, while our Talent Managers remain vigilant and available on a daily basis for each of their students.
Our goal is to push each of you to find YOUR path, the one best suited to you as an individual, and to shape committed, responsible and caring managers and directors.
They talk about it