Founded in 2015 with the patronage of the Fondation de France, the mission of the Foundation Institut Lyfe is to support the development of our school and thus contribute to the diffusion of French savoir-faire throughout the world. It guarantees the sustainability of the original vision of our founders, and works to ensure the social openness and diversity of our school.
Bringing to life our values of excellence, openness and daring
The vocation of the Foundation Institut Lyfe (formerly Institut Paul Bocuse) is to preserve the unique philosophy of our school by guaranteeing its independence, its sustainability and its status as a non-profit, general interest institution. Institut Lyfe is the only private higher education institution in hospitality and food service to enjoy association status under law 1901.
Promoting responsible, innovative and international education
Thanks to a committed community of corporate and private patrons, our Foundation works to create a learning environment that fosters creativity. It supports research projects on societal issues to respond to the problems and challenges of our sectors, and provides financial support to any applicant or student who can demonstrate their ambition and motivation, regardless of their social background.
Our Foundation supports 4 ambitious projects :
EQUAL OPPORTUNITIES AND EXCELLENCE
To ensure that cost is not an obstacle to ambition, and that surpassing limits is rewarded, the Foundation Institut Lyfe promotes an ambitious scholarship programme which each year grants Equal Opportunities scholarships and Excellence scholarships, as well as Mobility scholarships and Assistance grants during the course of study.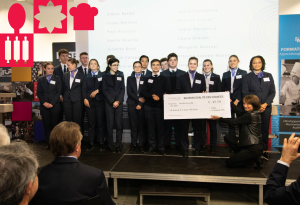 ACADEMIC EXCELLENCE AND TEACHING INNOVATION
To attract the best talents and offer the best to tomorrow's professionals, the Foundation Institut Lyfe (formerly Institut Paul Bocuse) finances innovative, experiential and personalised educational tools and projects.
SCIENTIFIC RESEARCH
To develop globally recognised research on the theme of food transition, it finances projects within our Research Centre aimed at supporting access to tasty, healthy and sustainable food for all.
DEVELOPMENT OF INFRASTRUCTURE
To enrich the student experience and build for the future, it contributes to the development of our school's infrastructure. It is largely thanks to the support of its patrons that our new campus Gérard Pélisson, dedicated to hospitality and food service, became a reality, allowing our current students to continue to dream bigger and allowing us to welcome even more talents in the future.
Since its creation, 9 million euros have been collected, 360 scholarships awarded, 1 research project completed and 3 theses co-funded.
Board of Governors
Gilles Pelisson, Founder
Sylvie Pélisson, President of the Foundation
Yannick Alléno, Administrator
Sven Boinet, Administrator
Maxime Bontoux, Administrator
Dominique Giraudier, Administrator and Managing Director of the Lyfe Institute
Anne-Sophie Pic, Administrator
Ryma Prost-Romand, Administrator and President of the Alumni Association
Stephanie Rollin, Administrator
Philippe Sans, Administrator
Jean Solanet, Administrator
Nathalie Perrin, General Delegate of the Foundation