Bachelor (Hons.) in Restaurant Management
The Bachelor's degree in International Food Service Management trains future leaders in the restaurant and food service industry: from fast food to traditional restaurants, from street food to gourmet cuisine, from hotel food service to on-board catering, and from commercial food service to mass catering.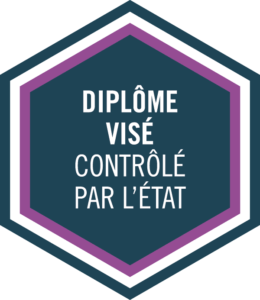 Bac+4 Bachelor's degree in Hospitality and Food Service Management approved by the Ministry of Higher Education and Research.*
**Official Bulletin n°31 on 24 August 2023 
Qualification: State-approved Bac+4 Bachelor's degree
Duration: 4 years (240 ECTS)
Entry requirements: Bac or international equivalent
Start date: September
Language(s) : French/English
Attendance: full-time. Combination of theory, practice and hands-on professional experience.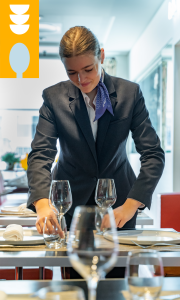 In France, 1 out of 5 meals is consumed outside the home. New rhythms of daily life, societal evolutions, new consumption patterns and enhanced digitalisation make the food service industry a strategic sector with enormous prospects for growth, reinvention and employment.
Naturally service-focused, you are interested in all types of food service and aim to please. Passionate about digital, you are constantly on the lookout for innovative technologies at the service of an augmented customer experience.
Our 4-year training course will allow you to get to grips with the entire food service value chain, from employees to suppliers, distributors, restaurateurs and consumers. When you leave us, you will have mastered all the technical and management levers to allow you to adapt to, anticipate and initiate evolutions in food service, ensuring the profitability of your establishment and cultivating memorable customer experiences.
Whether you want to create a new concept in Paris or run multi-site restaurants in a hotel complex, our Bachelor in International Food Service Management will help you develop all the managerial and operational skills necessary to succeed in the food service professions and run a business or establishment.
---
The art of learning
Resolutely experiential, our educational approach, inspired by the philosophy of learning by doing, alternates practice and theory.  Professional experience within our training restaurants allows our students to concretely implement the knowledge gained and meet the challenges of the reality in the field. Your training will also include various experiences, carefully adapted to your path: team projects, conferences, case studies developed by our partner companies, etc.
You will gradually adopt a managerial attitude, developing your soft skills and gaining a detailed view of every aspect of food service, enabling you to immediately access senior roles in the food service sector upon graduation.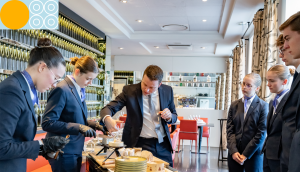 *Given only as examples
---
Why choose us?
---
WHAT FURTHER STUDY OPTIONS ARE AVAILABLE?
MSc in International Hospitality Management
---
YOUR FUTURE WILL AMAZE YOU
VARIED PROFESSIONAL PROSPECTS AND INSPIRING CAREERS
Multi-site restaurant manager
Food & beverage manager
Digital food manager
Purchasing manager
Concept creator
Food import/export manager
Consultant
AS WELL AS…
Customer relations manager
Food innovator
Network manager
Management controller
Trainer
Head of partnerships and events
WHAT HAVE THEY BECOME ?
---
EXPLORE OUR PROFESSIONS THANKS TO A DISCOVERY PLACEMENT
Are you drawn to the tourism and hospitality sector? Are you wondering about your orientation, studies and possible educational and career paths?
Institut Paul Bocuse has joined forces with several major hotel groups in an innovative project open to high school students in France.
As part of a 5-day placement supported either by schools/high schools or by Chambers of Commerce and Industry, we offer an immersive experience during the school holidays, in a suitable workplace, assisted by committed professionals, for all students wishing to learn more about the tourism, hospitality and food service sectors. 
---