Revenue Strategies in Hospitality and Food Service specialisation
The Revenue Strategies in Hospitality and Food Service specialisation will equip you with the skills to become an expert in pricing strategy, optimization and maximization of profits in the hotel and food service industry.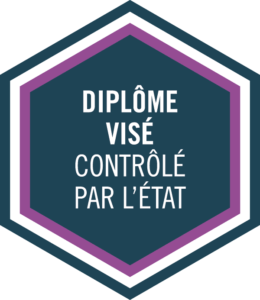 Degree in Hotel and Restaurant Management (4-year) registered and approved by the Ministry of Higher Education and Research*.
*Publication in the Official Bulletin n°31 on 29 August 2019
Qualification: Bachelor (Hons.) State Certified Level II Qualification
Length: 7 months full-time (60 ECTS)
Languages of instruction: French/English
Start date: January 2023  
Entry requirements: We welcome applications from anyone who has completed a 3-year higher education degree or equivalent
Careers: Revenue manager, E-distribution manager, Corporate operation manager, Digital & CRM manager, General manager of a central reservations' office
Maximising profit in the digital era
In a highly competitive hotel industry, revenue management is a key element of the commercial strategy and the profitability of hotel companies.
This specialisation will provide you with an expert understanding of the essential tools and methods you will use to improve the revenue and profitability of your future business organization with a global approach that takes into account market trends, customer consumption habits and historical information.
---
Course overview
Understanding customer perceptions and choices
Our specialisation covers a combination of traditional areas in marketing and revenue management as well as the use of new digital tools.
During our training program, you will learn the fundamental principles of revenue management and how to put them into practice in a hotel environment. You will explore innovative pricing strategies, advanced analytical tools, and methodologies to maximize revenue while maintaining customer satisfaction.
Course features*
*Given only as examples
Fundamentals of Revenue Management
Distribution, strategy and digital campaigns
Marketing and sales with Business game
Business models in Hospitality and Tourism
Pricing and forecasting tools and methods
Optional work placement at the end of the course
---
Why choose us?
You are going to be surprised by your own future
Open up new career opportunities – revenue management professions are becoming widespread in the hospitality sector and increasingly popular in the fields of catering, leisure and transport.
With 72 different nationalities on campus, you will develop your ability to work in culturally diverse work environments.
Small class sizes mean you will benefit from personalised support and supervision from our academic staff.
Build yourself a solid, inspirational and international future: 80% of our graduates' first jobs are as managers. Nearly 70% begin their career overseas.
---
What are the opportunities for further study?
---
YOUR FUTURE WILL AMAZE YOU
VARIED PROFESSIONAL PROSPECTS AND INSPIRING CAREERS
Revenue manager
E-distribution manager
Online networks manager
Lean manager
Corporate operation manager
AS WELL AS…
Digital & CRM manager
Analyst
Sales & Marketing Manager
Social Media Analyst
General Manager of a central reservations' office
---