Induction 2022: New talents join our family
It was in a friendly and festive atmosphere that the first-year students received their induction pins, symbolising their entry into the Institut Paul Bocuse family and the start of their programme of studies. But before this ultimate step, a unique induction week awaited our 250 new first-year students of the International Culinary Arts, Pastry, Hospitality and Food Service Management Bachelor degree programmes. An unforgettable event placed under the symbol of friendship, sharing, getting to know each other, but also their new home for the next few years.
FEEL-GOOD DAYS
A PREPARATORY PROGRAMME DEDICATED TO INTERNATIONAL STUDENTS
Our new international students, representing 48 nationalities in our school, were invited to "Easy France Toolbox", a tailor-made programme, thought out in minute detail to facilitate their integration.
Among the activities offered, students benefitted from intercultural workshops, a forum bringing together some of our partners to help them with their administrative procedures, a walk through the heart of Lyon, etc.
Because the integration and well-being of our international students is a priority, Institut Paul Bocuse has been awarded the Bienvenue en France label by Campus France, a guarantee of a high-quality learning experience and a respectful study environment.
CREATING LINKS AND DISCOVERING THE POST-HIGH SCHOOL ENVIRONMENT
The Induction Week is a key event for our new students, most of whom have recently graduated from high school and are embarking on a new stage in their lives and their academic studies.
The induction week is a traditional and eagerly awaited event for all students, and is a time for friendship and sharing. It is on this occasion that the new classes discover their campus, meet the teaching staff who will accompany them throughout their studies, as well as their cohort mentor and, above all, their new classmates. 
Throughout the week, the students become true Bocusians thanks to a series of fun and team-building activities, some of which have become iconic: the white evening party, the grand banquet, the rally in Lyon and the parade in uniform on the last day.
Creating links between our first year students, but also with the former cohorts, who are very much involved in the induction week, reinforcing the feeling of belonging to an international and prestigious school, and embodying our values are some of the missions that are reflected in this unique week of events!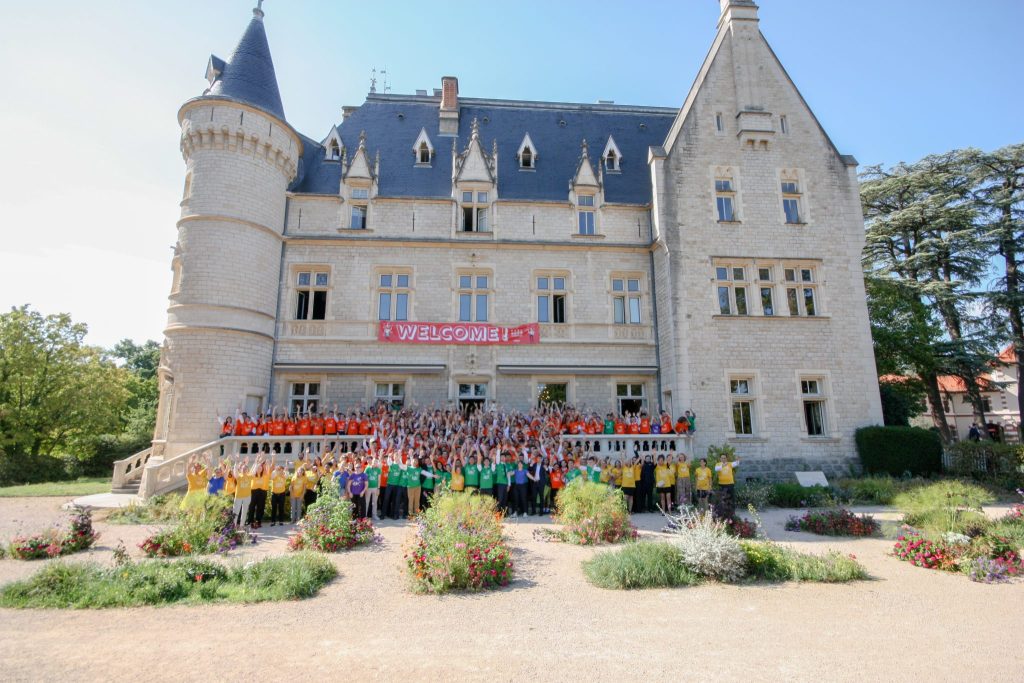 AN EXTENDED FAMILY TO ACCOMPANY THEM
Joining Institut Paul Bocuse means joining a family made up of students and graduates who, throughout the world, represent more than 3,000 people across 80 countries. A family whose objective is the personal and professional development of each and every member. A message that is carried by the mentors of each of our cohorts.
SÉBASTIEN BRAS, CHEF OF LE SUQUET RESTAURANT, MENTOR OF THE BACHELOR IN INTERNATIONAL CULINARY ARTS MANAGEMENT
A 1993 graduate and today a twice-Michelin-starred chef who was voted creator of the year at the 2016 Omnivore Festival, Sébastien BRAS, a passionate chef, delivered two powerful messages to his cohort: "What is important is to be curious and to keep looking at the world through the eyes of a child" and "What is art, what is inspiration.  What are the yellow produce in a kitchen, and what can I do with them?".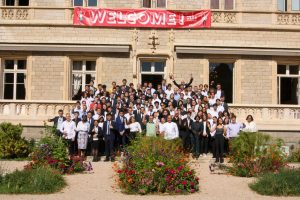 MARIE SIMON, WORLD CHAMPION OF CONFECTIONERY ARTS, MENTOR OF THE BACHELOR IN INTERNATIONAL PASTRY MANAGEMENT
After gaining international recognition 4 years ago, Marie Simon is now at the head of her own pastry shop. She defines her mission as mentor as follows: "I will be there to answer any questions that a future pastry chef may have about this exciting profession, and to share my experience with the aim of helping everyone".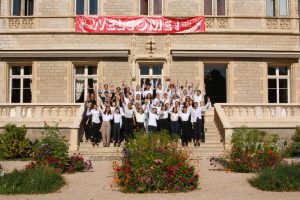 JEAN-FRANÇOIS TÊTEDOIE, A 2012 GRADUATE AND ENTREPRENEUR, MENTOR OF THE BACHELOR'S DEGREE IN INTERNATIONAL FOOD SERVICE MANAGEMENT
A few years ago, he was in their shoes. Today, Jean-François Têtedoie, a successful entrepreneur, is at the head of 4 bistronomic and gastronomic venues. In his role as mentor, he insisted on one value: exemplarity. A value that he applies in his day-to-day life and that he intends to instil in our students: "In our professions, we must be in tune with the produce, customers and employees".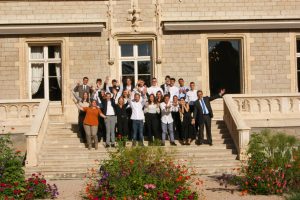 STÉPHANIE ROLLIN, GENERAL MANAGER OF THE SCIH HOTEL GROUP, MENTOR OF THE BACHELOR IN INTERNATIONAL HOSPITALITY MANAGEMENT
As the head of a group representing 85 hotels in France and Europe, Stéphanie Rollin, as the patron of our new cohort, insisted on the place and importance of passion in the hospitality industry: "The hospitality industry, like art, is one of the rare sectors where passion guides us". Stéphanie Rollin's mission as patron is to make all aspects of the hospitality industry visible.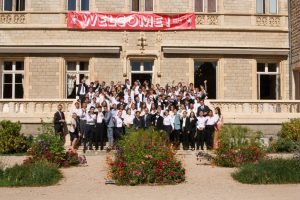 Our students are now ready to start their first year and reveal their talent throughout their studies, grow alongside our teaching teams and become the responsible leaders and managers of tomorrow. Welcome to them!
---
Would you also like to experience a unique integration event and join Institut Paul Bocuse? Come and meet us during the forthcoming Open Days: