Bachelor in International Pastry Management
The Bachelor in International Pastry Management will prepare you to become a highly qualified professional in the fields of patisserie, bread making, chocolate and confectionery, demonstrating creativity, expertise and leadership skills.
This Bachelor is a major of the International Management of Culinary Arts Bachelor.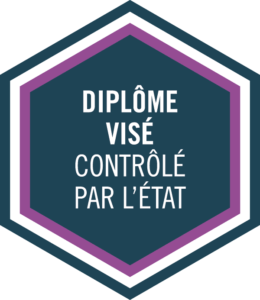 Bac+3 qualification in International Culinary Arts Management approved by the Ministry of Higher Education and Research*.
*Official Bulletin n°31 on 24 August 2023 
Qualification: State approved Bac + 3 degree in bac+3 in International Management of Culinary Arts, major in pastry.
Duration: 3 years (180 ECTS)
Entry requirement: Bac or equivalent
Start date: September
Language(s): French
Attendance: full-time. Combination of theory, practice and hands-on professional experience.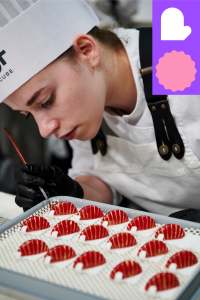 One of France's most renowned specialities, patisserie is experiencing a boom in popularity all over the globe. Elevated to the level of an art and synonymous with emotion, it requires refinement, aesthetics, great technicality, and is constantly evolving alongside new modes of consumption.
Are you passionate and creative, but also thorough and meticulous? Do you love sharing more than anything, and have a keen aesthetic sense? Then you are made for a profession in patisserie!
Our Bachelor's Degree in Pastry Management, a 3-year programme approved by the State, will immerse you in an innovative vision of the patisserie professions. It will equip you with the fundamental techniques of patisserie and the managerial skills to hold a senior position in France or abroad, or to forge your own path as an entrepreneur.
---
THE ART OF LEARNING
Resolutely experiential, our educational approach presents a perfectly balanced blend of practical and academic training. 50% of your course will be dedicated to hands-on professional experience within our laboratories (patisserie, bread making, chocolate) and training restaurants (including a Michelin-starred restaurant). 
You will master the fundamentals of traditional French pastry making as well as complex contemporary desserts and creations in sugar and chocolate. Your studies will also include creative and collective projects that will develop your team spirit, interpersonal skills and sense of initiative. 
During your training, you will gradually adopt a managerial attitude and the soft skills that will prepare you for an agile and rapidly evolving career. At Institut Lyfe, you will learn team spirit, management, communication skills and versatility.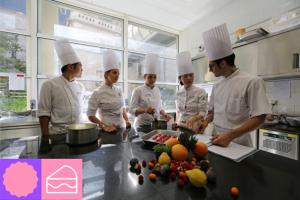 *Given only as examples
YEAR 1: Develop your curiosity and analytical skills
Fundamentals of pastry techniques, tea rooms, pastry shops, plated desserts
Nutrition, health and pleasure
Agricultural economics & food systems
Management sciences: marketing, management, CSR, human resources, accounting
Modern languages
14-week placement from December to February based on the seasonality of the business
YEAR 2: Effective reasoning and stimulating your creativity
In-depth knowledge of French pastry, travel cakes and petit fours, desserts, contemporary tarts, croquembouches and sugar art, chocolates
Management sciences: marketing, team management, sustainable development, human resources, management control
Chef brand management & social media
Chemistry of sweet foods
14-week placement and/or international mobility in one of our partner schools
YEAR 3: Decision making and developing a bold spirit
New trends and advanced pastry techniques
Art, drawing and design in pastry
Management sciences: marketing, diversity management, human resources, finance
Choice of specialisation: restaurant pastry chef, outlet pastry chef
Choice of specialisation: chocolate or ice cream
Collective final-year entrepreneurial project: creation of a pastry shop
6-month placement
---
Train alongside the best: 43 professional chefs including 6 pastry chefs and a Meilleur Ouvrier de France Chocolatier-Confectioner.
Benefit from a complete education at the cutting edge of innovation, getting to grips with the technical, technological and artistic components of patisserie.
Practise in unique facilities: 15 laboratories, 6 training restaurants, including a Michelin-starred restaurant.
Open your mind to the world, thanks to the diversity of nationalities on campus and the strong international dimension of the curriculum, as well as the pathways available at our partner universities.
Benefit from continuous employability orientation with personalised career support from a team of coaches.
---
---
YOUR FUTURE WILL AMAZE YOU
VARIED PROFESSIONAL PROSPECTS AND INSPIRING CAREERS
Restaurant pastry chef
Owner of pastry outlet
Personal pastry chef
Pastry consultant
Chef chocolatier-confectioner
AS WELL AS …
Entrepreneur
Trainer
Outlet pastry chef
Catering pastry chef
Product development manager
---