Bachelor in International Hospitality Management
The Bachelor in International Hospitality Management trains students to become future leaders and skilled managers in the hospitality, tourism, service and luxury sectors. Ranked no. 1 in the Eduniversal France classification for the 13th consecutive year.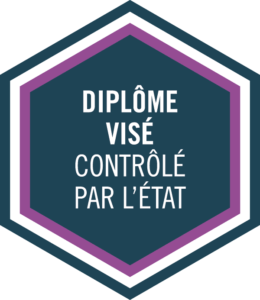 Bac+4 Bachelor's degree in Hospitality and Food Service Management approved by the Ministry of Higher Education and Research.*
**Official Bulletin n°31 on 24 August 2023 
Qualification: State-approved Bac +4 Bachelor's degree  
Duration: 4 years full-time (240 ECTS)
Languages: French/English or English
Entry requirements: French Baccalaureate or equivalent qualifications
Start date: September
Attendance: full-time. Combination of theory and practical lessons alongside hands-on professional experience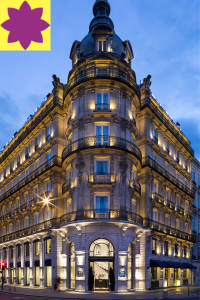 We live in a rapidly changing world, accelerated by ongoing technological and societal developments. Our 4-year bachelor's degree, with State certification, develops all the managerial and operational skills necessary to succeed in your career in the global hospitality and tourism sector.
With a love of meeting people and a natural human touch, you want to bring a different perspective to hospitality management, revolutionising the customer experience and the hospitality and service professions.
With our bachelor's degree programme, you will become an experienced professional in the hospitality and tourism sector, agile and mobile, able to manage a business in the hospitality industry – from a 5-star hotel or resort in Paris to a luxury retreat or boutique hotel in Bali, take on a managerial role in a large group, or create your own guest accommodation establishment, in France or around the world.
---
The art of learning
Resolutely experiential, our training and educational approach is inspired by the philosophy of "learning by doing", creating a permanent link between theory and practice (hands-on professional experience in our applied learning environments and on placements). Thanks to our Bachelor's degree in International Hospitality Management, you will acquire a balanced combination of the knowledge and soft skills required in hospitality, tourism and service through our training hotels and restaurants, and management expertise.
During our bachelor's programme, our students gradually adopt a responsible managerial and entrepreneurial attitude and develop all the soft skills and competencies necessary for rapid career development: team spirit, leadership, communication, analytical skills and decision-making.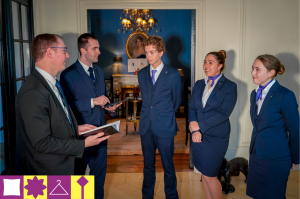 *Given only as examples
YEAR 1: Understand the business and the customer environment, develop your curiosity and your analytical skills
Management of hospitality operations and organisations
Hospitality marketing
Interpersonal communication
Modern languages (Arabic, Chinese, German, English, Italian, Spanish)
Hotel Challenge: creation of an innovative hotel concept in a group (from business plan to pitching the project)
Hands-on professional experience in our applied learning environments
*Possible transfer at the end of the 1st year to the Bachelor in International Restaurant Management
4-month placement in France or abroad
YEAR 2: Managing teams, effective reasoning and stimulating your creativity
Hotel management and quality control
Digital marketing and data analysis
Accounting and financial management
Human resources management
Managerial communication
Developing your leadership style: citizenship and solidarity

Hotel design and new trends: creative project
4-month work placement France or abroad and/or an international mobility at one of our partner schools    
YEAR 3: Contributing to the overall performance and management of the business, decision making and developing a daring managerial and creative style
Hospitality strategy
Performance management and development
Revenue management 
Diversity management
Sustainable hospitality
Responsible management
Final-year business project
Semester of international study
6-month placement France or abroad
YEAR 4: Developing targeted expertise and becoming a skilled professional
Varied training paths: choose a specialisation focused on the specific needs of the hospitality industry.
Each specialisation ends with a collective project assigned by a company.
---
Uncover your potential and develop your skills alongside the best: a multidisciplinary team of 235 professionals and teachers, recognised leaders in their fields. The faculty includes 30 experts in the hospitality and food service sector and a community of educators in management sciences, 67% of whom hold a PhD.
Choose excellence with a Bachelor's degree ranked 1st by EDUNIVERSAL for the 13th consecutive year.
Thanks to the combination of theory and practice, you will gain experience on a unique training ground covering all aspects of hospitality: a 5* training hotel (The Royal MGallery by Sofitel), the Maison d'Anthouard 4*, the Hôtel Mercure Lyon Centre Beaux Arts 4*, a hotel residence and 6 training restaurants, including a Michelin-starred restaurant
Enhance your expertise thanks to the different courses offered and choose one of the 6 specialisations in the 4th year.
Open your mind to the world, thanks to the multicultural student body on campus and a mobility semester with our partner universities.
Develop your self-confidence and consolidate your professional path thanks to personalised career support from a team of coaches.
---
---
Your future will AMAZE you
VARIED PROFESSIONAL PROSPECTS AND INSPIRING CAREERS
Hotel Manager/Director
Guest Relations Manager
Quality Manager

Revenue manager

Entrepreneur

Business Development Manager
AS WELL AS…
Trainer
Director of Operations
Resort Manager
Digital Marketing Manager
Operations Manager
Meetings & Events Manager
Sustainable Development Manager
---
EXPLORE OUR PROFESSIONS THANKS TO A DISCOVERY PLACEMENT
Are you drawn to the tourism and hospitality sector? Are you wondering about your orientation, studies and possible educational and career paths?
Institut Paul Bocuse has joined forces with several major hotel groups in an innovative project open to high school students in France.
As part of a 5-day placement supported either by schools/high schools or by Chambers of Commerce and Industry, we offer an immersive experience during the school holidays, in a suitable workplace, assisted by committed professionals, for all students wishing to learn more about the tourism, hospitality and food service sectors. 
---