Trends and developments in the food sector
On the occasion of World Food Day, many companies, communities, and consumer and patient groups take the opportunity to speak out on this vast societal topic, as was the case, for example, in 2022 when, in an op-ed piece published in the JDD newspaper, various stakeholders called on the French public authorities to "implement real policies for healthy and sustainable food that is accessible to all".
The food sector is home to a multitude of trends, and it can be difficult to keep up. At Institut Lyfe, we work daily to instil and evolve consciousness in our students, future decision-makers in our industries. With this in mind, a variety of modules and courses are offered to our students on the Bachelor's in International Culinary Arts Management.
Some examples include:
THE BENEFITS OF FERMENTED PRODUCTS
In the vast world of gastronomy, talk is increasingly turning to fermented products and lacto-fermentation. But what is it really about? These techniques, with seemingly odd names, are, however, a real asset for health and the microbiota. The fermentation process of foods such as vegetables, cheese, or even sourdough bread, modifies their nutritional properties and increases the quantity of bioactive compounds within the body. Some foods do, in fact, come alive when we combine them with fermentation techniques, and consuming these types of products brings tangible health benefits.
In recent years, we have been (re)discovering the role that microbes play in our food and their effect on our health. A large part of the fundamental foods of any country's cuisine are fermented, so they are the product of collaboration between humans and microbes. It is a valid relationship that exists and that is beneficial to our organism.
Marc Lahoreau, Deputy Executive Chef
DIETARY NEEDS AND CHOICES
As the number of distinct dietary choices continues to grow (vegetarianism, veganism, flexitarianism, ketogenic and "free from" diets, such as lactose-free or gluten-free), we are no longer talking about mere fads, but instead a shift in consumption habits.
Our students are sensitive to and informed on what is a true social and public health phenomenon, and Institut Lyfe promotes a number of pop-up restaurant projects that deal with these issues and different modes of consumption. So animal protein may become an accompaniment in certain dishes within their concepts, or the students might decide to make vegetables the star of the show, using various culinary techniques. In addition to a means of standing out within the industry, these culinary innovations must now take centre stage in order to meet a constantly growing demand.
Vegetarian cuisine is something that makes sense because it takes into account environmental issues, but also the human issues behind the act of cooking. In vegetarian cuisine, anything is possible based on the products used.
Théo Rescanières, 3rd year student on the Bachelor's in International Culinary Arts Management

DID YOU KNOW?
Because our health depends, above all, on what we eat, students of the Bachelor's in International Culinary Arts Management can choose Well-being and Eating Well by Institut Michel Guérard* as a 3rd-year specialisation, which teaches them about the link between food and health, and educates them in culinary creativity.
Our chefs of tomorrow will have to face several societal challenges, including promoting a healthy and sustainable diet, and a return to more natural and less processed products. This specialisation was created in order to give our students the tools to meet these challenges, enabling them to master innovative culinary techniques, understand the functional and nutritional value of food, and push the boundaries of their creativity.
Nicolas Tête, PhD – Permanent Lecturer in Food Sciences and Nutrition – specialisation lead on Eating Well and Well-Being.
STRATEGIC VISION FOR FOOD
Professionals and companies are working on tomorrow's innovations and trends to find new ways of eating. Research & Development is a strong lever for competitiveness in the food sector. How can we rework a recipe to make it both healthy and tasty? How can we win over consumers who are sceptical about animal protein substitutes? Researchers and professionals in the sector are asking themselves a range of questions, also aimed at developing awareness in society at large on these topics.
Our Master's Degree in Culinary Leadership & Innovation educates students towards this strategic vision of culinary management, among other things, and paves the way for positions in R&D, in order to work on the innovations of the future.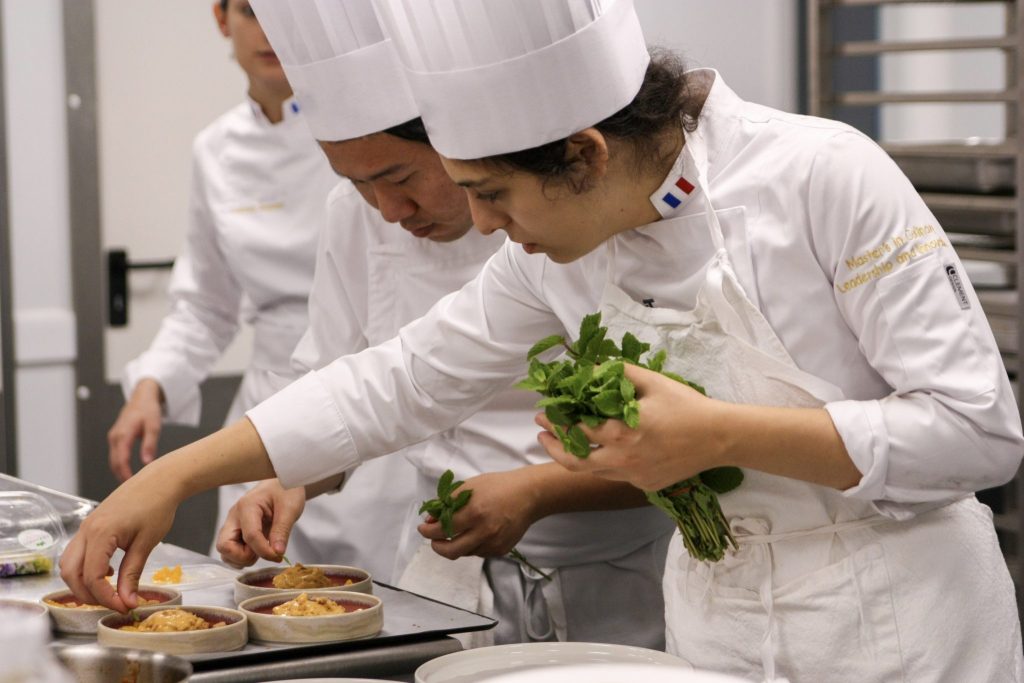 ---
Are you a college or high school student planning to enter the culinary arts professions? Are you interested in conscious cuisine and shaping the habits of the future? Come and talk to us at our open days, fairs and Q&A sessions, to discover how you can play a part in the future of food.