Two new hotels train our students
The Mercure Lyon Centre Beaux-Arts Hotel and La Maison d'Anthouard, two hotels in Lyon, have become hotel training centres since the start of the 2022 academic year, exclusively welcoming Bachelor's degree students in International Hospitality Management from Institut Paul Bocuse to help them discover the full diversity of the hospitality industry by incorporating them into their teams.
UNIQUE HOTEL-TRAINING CENTRES
THE MERCURE LYON CENTRE BEAUX-ARTS HOTEL
The Mercure Lyon Centre Beaux-Arts is a 4-star hotel located in the heart of Lyon. Our 1st year students were able to have their very first experiences of the hospitality industry in this establishment. They learned about the work of the reception and breakfast areas, as well as how to fully prepare a room for new guests. They also took part in customising the hotel's services, in particular through a joint project, which involved setting up a concierge service. The verdict after three weeks of training was that our students fitted into the teams perfectly and won unanimous approval, becoming true budding "Beaux-Artistes"!
The main mission of the Mercure Lyon Centre Beaux-Arts and the ValueState Hotels group is that each new person who joins the hospitality industry should remember the "joy of giving pleasure", such is their mission as the new hotel-training centre in our ecosystem.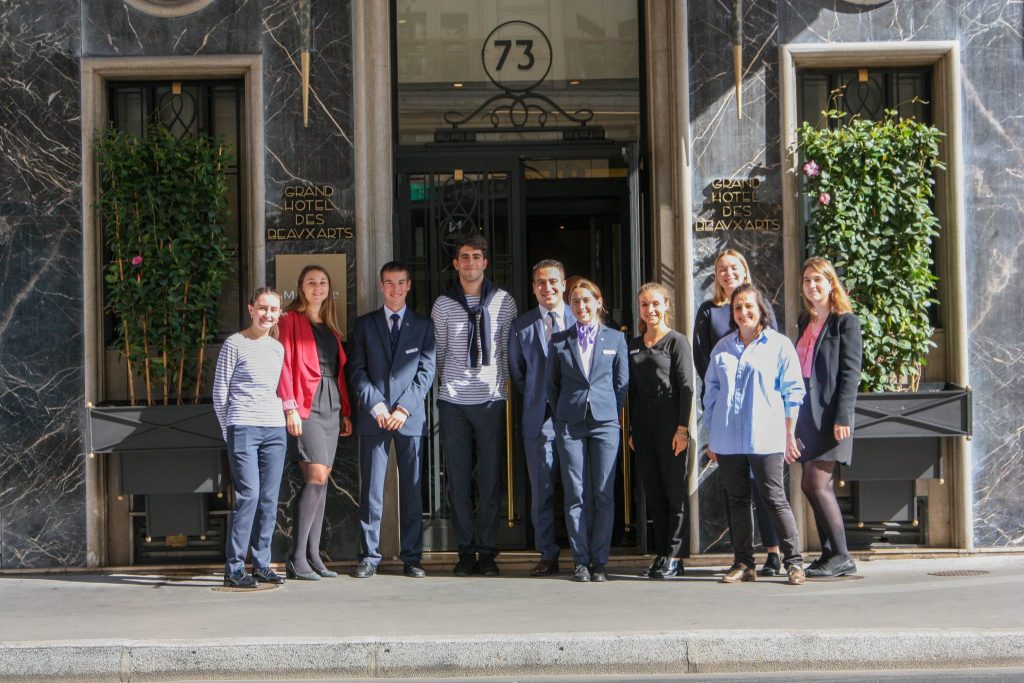 MAISON D'ANTHOUARD
La Maison d'Anthouard in Ecully, located near Lyon and the Institut Paul Bocuse campus, is a 4-star boutique hotel that defines itself as a "House of style and shared happiness". In this 16-room establishment, the students mainly learned about housekeeping, reception, food service and event management.
La Maison d'Anthouard is particularly appreciated for the organisation and staging of various events, including banquets, seminars and weddings. In this way, our students were able to develop their skills in organisation, planning and event management.
STUDENTS WHO LIVE UP TO EXPECTATIONS
These two new work placement venues, in addition to our two existing training centres (The M-Gallery Royal Hotel 5* and Le Clipper student residence), give our students the opportunity to learn in real-life situations across a range of different hotels. They explore the diversity of the hospitality industry and discover the variety of jobs available and the skills and qualities needed to become a successful professional.
The directors of the Mercure Lyon Centre Beaux-Arts and La Maison d'Anthouard are already praising the skills of our talented young students. Isabelle Didier, Pedagogical Director of the programme, also reacted to the initial rotations of 1st year students:
"I am impressed by the students in this year's class who are starting their professional placements at these two new hotel training centres! I can only commend their empathy, willingness to work hard and helpfulness. I am extremely proud of them. They convey a positive image of our school and proudly show that they belong to our excellent training programme right from the start of their course!".
---
The Bachelor in International Hospitality Management aims to train the decision-makers and leaders of tomorrow's hospitality industry. A 4-year programme approved by the State which enables young talented students to become experts in this industry in France and internationally, thanks in particular to 6 specialisations in the 4th year.