Placement at the ends of the Earth: Theo Girbal in Bora Bora
Theo Girbal, a student in Bachelor in International Culinary Arts Management, is currently on a placement at the Four Seasons Bora Bora in Polynesia. From a simple challenge between friends to a veritable professional experience, he is currently living a dream that he is pleased to share with us in this interview.
"Travelling nearly 20,000 kilometres to find yourself in paradise in the middle of the Pacific." is how Théo defines his current working environment. Because a placement is with an establishment, but it is also, and above all, a destination and a living environment, sometimes a complete revelation: "Bora Bora is an immersion in an island at the edge of the world, more than 24 hours' travel from France, which offers unique natural surroundings and authentic Polynesian culture."
LEARNING ALONGSIDE THE BEST AT THE FOUR SEASONS BORA BORA
During his placement at the Four Seasons Bora Bora, Théo is supervised by teams and talented chefs such as Executive Chef Eric Desbordes, world champion in pâté en croûte, and manager of large establishments including 114 Faubourg, a luxury brasserie in Bristol where he has been awarded a Michelin star.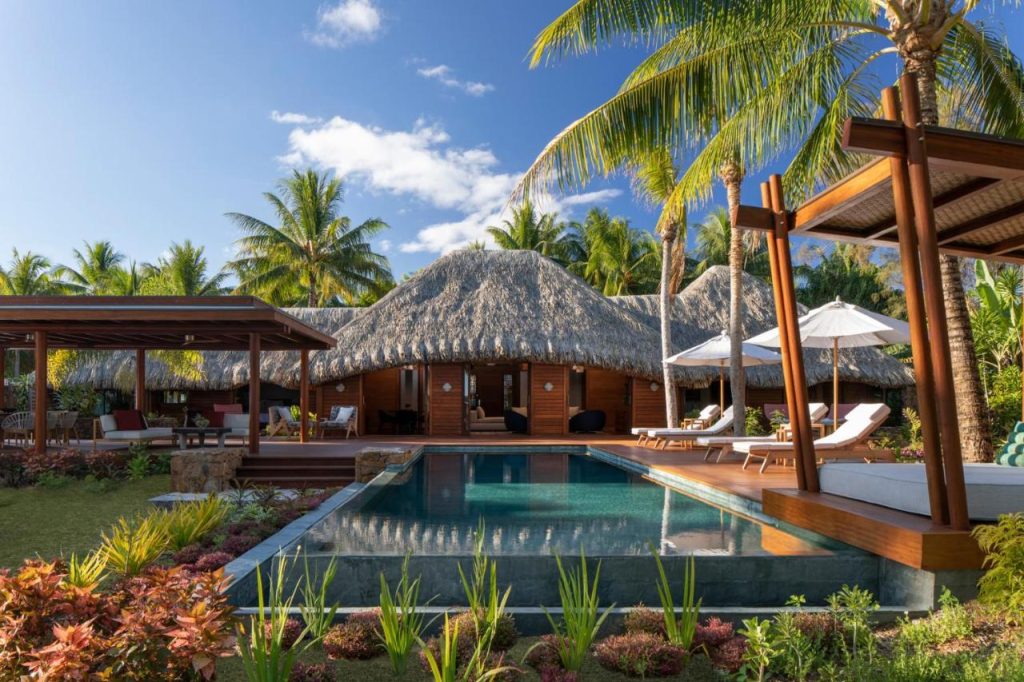 Working in Polynesia also means adapting to the culture of the local teams: "Here, in Polynesia, the strictness at work is not the same as in mainland France but it is up to us to adapt to the habits and customs, mentality and local way of doing things, and not vice versa, even at the Four Seasons. The atmosphere is much more relaxed here, for example, it is not uncommon to have music on at work, good humour usually prevails in the kitchens and jokes between colleagues are frequent. The important thing is that everything is in place for the service, that everyone is ready to meet customer requests and that quality is assured."
A placement where expectations are high but where freedom of action and responsibilities are stimulating:
"As a student of Institut Paul Bocuse, the sous-chefs expect us to be exemplary in terms of organisation and technique, as well as in our professional behaviour. A relationship of trust was quickly established. For example, it is not uncommon for sous-chefs to ask us to show our creativity and design a special menu, to think about new recipes and then to try them out.

Having worked with the Italian Chef, Simone Zanoni, during a previous placement at the George V, my sous-chef asked me to develop a pasta dish that would be served to clients for the trattoria evening at the hotel restaurant. With my colleague Morgan, we discussed a few ideas, then the next day, I proceeded to do some trials, and then presented to the Chef for tasting. He loved it! That same evening, the dish was the suggested dish of the day at the restaurant. What an amazing opportunity!"
A UNIQUE PLACEMENT IN A SUMPTUOUS SETTING
"Having previously worked for the Four Seasons Paris, I knew before my internship in Polynesia that this hotel group has a HR policy that is very focused on the satisfaction and well-being of its employees … but I must admit that I did not expect this! The company has given us a fantastic air-conditioned and perfectly equipped apartment overlooking the lagoon! A great luxury for this incredible placement where we learn to live in harmony with the rhythm of the sun, at a slower pace than in mainland France… "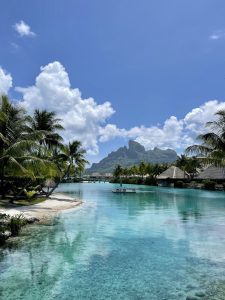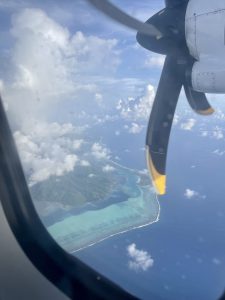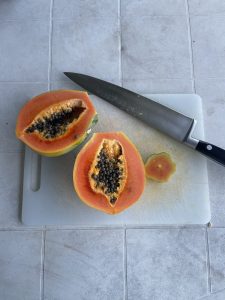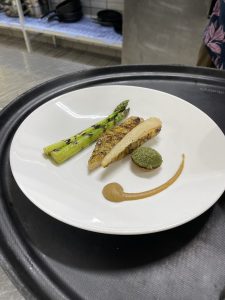 Ever thought about doing the daily commute by boat? For the past two months, this has been part of Theo's daily routine: "Here, obviously there is no metro, no tram … but there are lots of boats. Every morning and evening, we take the shuttle located next to our residence to get to the hotel. It's really magical, you can't get enough of this scenery! The colour of the water is incredible: turquoise and transparent like a mirror, and in some places you can see corals and schools of fish very clearly. One morning, I even spotted dolphins swimming! Everything around you is like a postcard, I can't get enough of it."
A LIFE EXPERIENCE
"When you choose to come to Bora Bora, it's not just for the professional experience, it's also for a life experience! In the morning, I go diving in the lagoon, then I relax for a while under a coconut tree before joining some colleagues at the snack bar at Matira, the most beautiful beach on the island. There, we meet up at "Mamie Pina" to have a drink while admiring the horizon, we chat, sing, laugh and enjoy the magic of an incredible sunset. There are really no words to describe this experience, you have to live it … There is something almost magical here, you sometimes have the impression of living in a world apart: stress and agitation don't exist here. You let yourself be carried along by the rhythm of life and then you discover that there is another way of living that is calmer, more serene, closer to nature. You learn to appreciate the simple things, there is an intensity in the existence of things that I had never felt before."
A PASSPORT TO THE WORLD
"With this placement, I understand how lucky we are to be here, in one of the most beautiful places in the world, but above all, how lucky we are to do such a wonderful job that opens up so many horizons! Professions capable of taking you to the other side of the globe to have extraordinary experiences. This is the magic of professions in Culinary Arts and Hospitality."
---
Have the experiences. Learn from the experiences. Create experiences. This is the whole philosophy of our educational approach at Institut Paul Bocuse. This is Theo's story, but  it could be something you also have the chance to experience by joining our Bachelor in International Culinary Arts Management.