Food tomorrow: the 7 challenges of food service
Understanding the food service sector of tomorrow so that the industry can adapt to changes, issues and trends, is the subject of the latest survey by GECO Food Service, aimed at understanding how eating and consumption habits will affect the food service and culinary arts industry. How will we live in 2030, how will we eat, and above all what will we eat?
THE 7 ISSUES AND TRENDS OF FOOD SERVICE IN 10 YEARS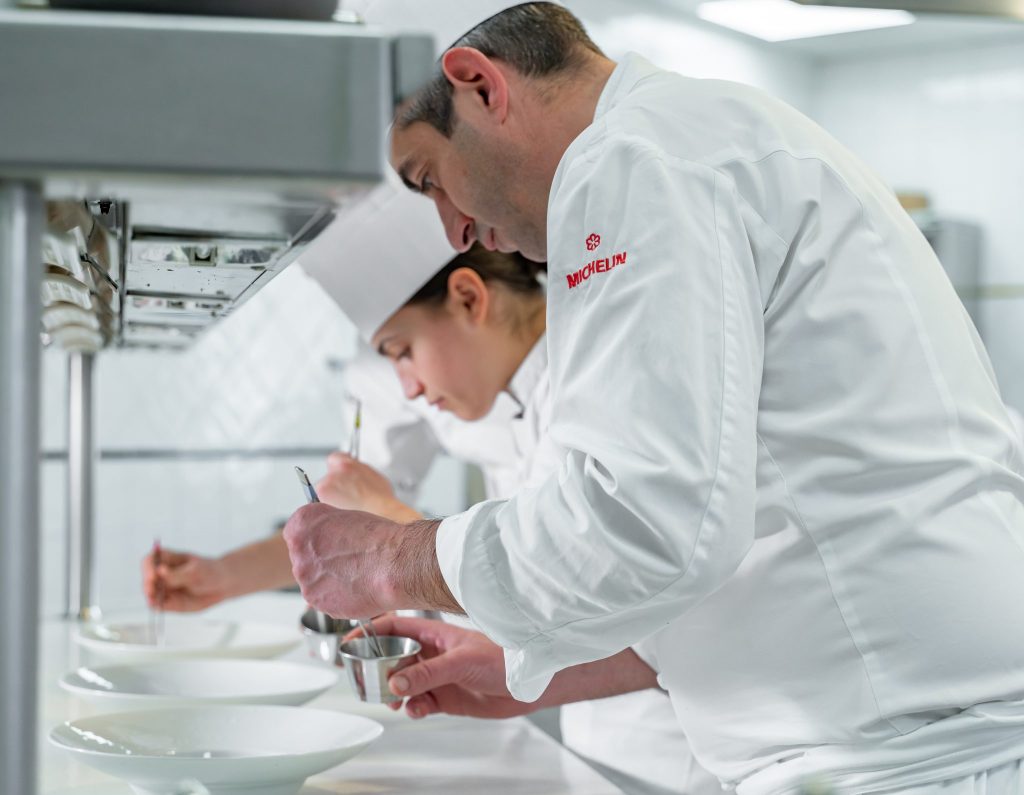 1. AN INCREASINGLY "SOLO" AND AGING DEMOGRAPHIC
Demographic data are essential indicators to understand consumption habits. By 2030, 46% of households will be what is termed as "solo" households, young, divorced or otherwise single households. Households who find themselves eating alone and who are looking for solutions to do so.
Another important factor is the aging population, which continues to grow: 30% of the population will be over 60 years old. This data implies different needs and adapted consumption, in particular through the further development of solutions to support elderly people, which also include a food aspect.
2. CONSUMERS IN SEARCH OF ENVIRONMENTAL RESPONSIBILITY
Of the 6,000 people interviewed by GECO Food Service as part of its survey, awareness of issues relating to environmental responsibility and sustainable development is now a given. The climate emergency, respect for the Earth and for living beings is no longer up for discussion.
Significant trends included buying local products, in a short supply chain, and wanting information on the origin of products and methods of production. Consumers are expressing a need for transparency and are looking for information and credibility. Environmental responsibility translates in particular into respect for the product and the environment. From production, to delivery and service, the entire industry must be rethought to respond to a challenge that involves all stakeholders in the food and food service industries.
3. FOOD: A FRENCH PASSION
As one of the factors that differentiate it from the rest of the world, France is – and remains – a country in which food is considered by its population as a real centre of interest and a unifying pleasure. 60% of the respondents go so far as to say that food comes close to passion for them. A very important figure, and above all one which has remained stable over time, involving all ages and all types of populations, with this sentiment no less strong even among young people. A boon for French restaurateurs who are faced with high levels of demand that need only to be satisfied.
4. DISRUPTION OF MEALS
Among consumer trends, the disruption of meals is becoming ever more significant, in particular with the popularisation of fast food and snacking. The trend is nevertheless not towards the Americanisation of meals, which remain of a high quality, but is evolving mainly against a backdrop of lunch hours that are less regular and timely.
5. THE DIGITALISATION OF SOCIETY
It would be impossible to talk about trends between now and 2030 without talking about the digitalisation of society and the role of technology in the development of solutions the management of an establishment's image. 59% of people today confirm they look up reviews or check online before visiting a new place.
The digitalisation of ordering, delivery and online purchase of meals or food products are also among the major current trends that will continue to develop and which should be taken into consideration.
6. FEELINGS OF ECONOMIC INSECURITY
Since 2008, this trend that has taken hold in the minds of French consumers. A feeling of insecurity that translates from a sociological point of view into the sensation of having a reduced income, quality of life and purchasing power. This obviously entails important impacts on purchasing behaviours and consumer attitudes. We can see that this phenomenon brings with it an increase in home cooking and batch cooking, behaviours that will tend to strengthen between now and 2030.
7. REGIONAL AND BALANCED DISHES
Among the main trends on our plates, the attraction to regional traditions is, and will continue to be, relevant in the coming years. No less than 81% of respondents claim to be attached to their region and to consume products "from home", even though this does not detract from their curiosity and interest in other cuisines, with 62% of respondents still actively seeking out new trends and flavours. Two seemingly contrasting pieces of data that coexist happily in the daily lives of consumers.
The notion of health continues to be paramount: having balanced meals and knowing their nutritional composition will become fundamental. We will also see development in vegetarian and vegan cuisine, which will undoubtedly become must-haves on the menus of our restaurants over the next decade.
---
The Manger Demain (food tomorrow) conference was presented at SIRHA 2023 and hosted by GECO Food Service to highlight upcoming trends in our industries and raise awareness among stakeholders in the food service industry of future issues. Our students – future professionals and leaders in our sectors – regularly discuss these topics in order to prepare for the next challenges facing the food service industry.