BOCUSE D'OR 2023: NAÏS PIROLLET, TEAM FRANCE AND GRADUATE OF INSTITUT PAUL BOCUSE
Naïs Pirollet, the first woman and youngest chef to represent France at the Bocuse d'Or Final, has certainly done herself proud! After 5 hours 30 minutes of cooking under pressure, she finished in 5th place overall, winning the award for the "Feed The Kids" children's dish.
A brilliant trajectory, an extraordinary human adventure. Accompanied by Team France, her coach, Chef Edouard Loubet, and her commis, Cole Millard, also a graduate of the school, she managed to win the hearts of some of the world's greatest chefs.
The team from Denmark took first place, while our Chef-Trainer Davy Tissot, winner of the previous edition, acted as President of the Jury this year alongside Chef Dominique Crenn.
Her dish based on monkfish, the second assignment in the competition, also stirred up the greatest chefs. "It's wonderful … It's a gem … You can immediately see it was a woman who made this so delicately", commented Chef Regis Marcon during the judging.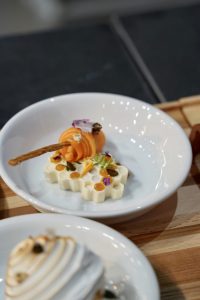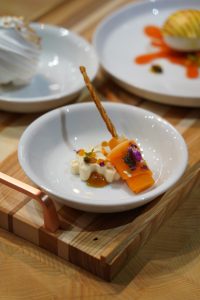 BOCUSE D'OR – AN ICONIC COMPETITION
The Bocuse d'Or is the biggest gastronomic competition in the world. Defined as a "universal system of sharing and recognition", for 35 years the Bocuse d'Or has been highlighting technique and creativity, along with the commitment and human values of chefs and gastronomy on a global scale.
Naïs Pirollet made an outstanding dish based on butternut squash to claim the prize for the best dish for children, which constituted the first task in the competition, and aimed to highlight the importance of nutrition for children's health.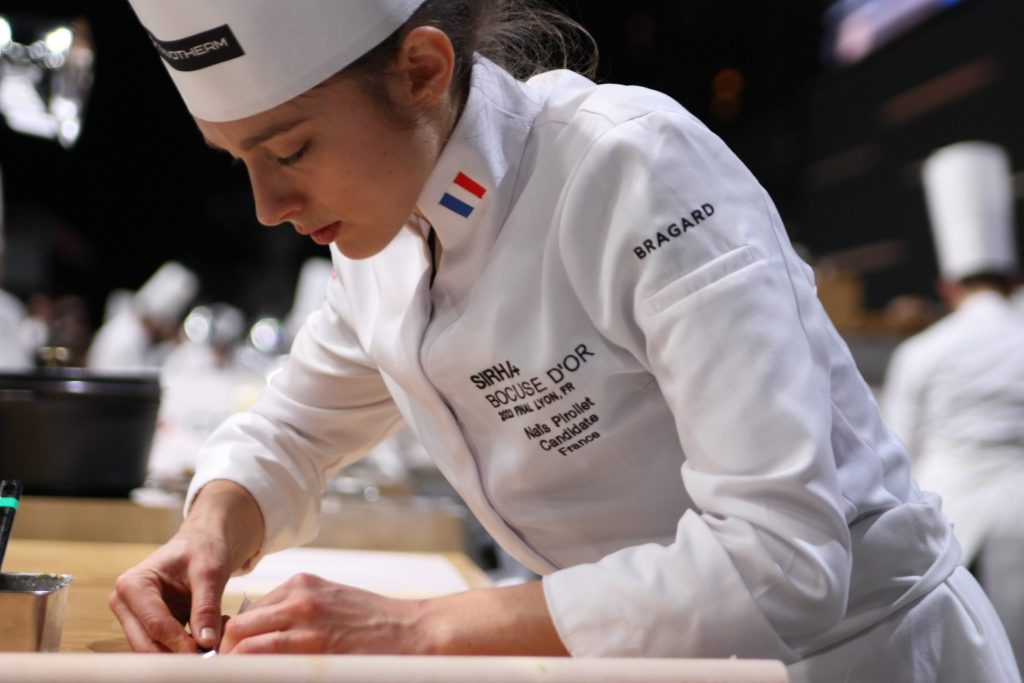 GRADUATE DUO SHOWCASING DETERMINATION, PERSEVERANCE AND DARING 
Talented young chefs Naïs Pirollet and Cole Millard represented their country with honour, alongside the values of our school: daring, creativity, excellence and hard work.
It was important to both of them to demonstrate that youth is in no way a hindrance to success and talent in the culinary arts sector, quite the contrary, in fact. 
After months of intense preparation, taking advice from the greatest French chefs in the "Refuge", a training area available on the school campus, Naïs and Cole gave their best and outdid themselves for this final.
Much more than a simple competition, the Bocuse d'Or is a professional and human adventure, unique in the lifetime of a chef. A test which allows you to discover yourself, push your limits and much more. Naïs and Cole will undoubtedly come out the other side of this adventure stronger, more united and more ambitious than ever!
Congratulations and thank you for allowing us to dream so big!
---
Outdoing oneself, taking up challenges and participating in major international competitions are all part and parcel of an education at Institut Paul Bocuse. Find out more about the school and how we guide our students to reveal their talent: