A graduation fit for our talented students
It's graduation time again! The official ceremony marked the beginning of a new adventure for our students who are starting their working life and embarking on their professional career. From Bachelor's to Master's, not forgetting our PhD students, this tailor-made event was organised to honour the graduates of the classes of 2019, 2020 and 2021. Three years and three times the emotion at this exceptional ceremony attended by Gilles Pélisson and class patrons Davy Tissot, Bocuse d'Or 2021, and Nicolas Bellaton, President Global Operations for Jumeirah Hotels & Resorts, and a graduate himself in 2002.
REUNIONS, EMOTIONS AND CELEBRATIONS
RETURNING TO THE ÉCULLY CAMPUS TO REUNITE
Before the official graduation ceremony, former students gathered at the Écully campus, at the Château du Vivier, which had hosted them throughout their educational journey. A perfect opportunity for these new graduates to meet over a rich breakfast and take care of the final administrative formalities, but above all to immortalise their time at the Institut Paul Bocuse with the traditional class photo. The legendary group photo celebrates graduates and above all friends, together with their class patron and the school's management, including CEO Dominique Giraudier, and Gilles Pélisson, President of the Institut Paul Bocuse.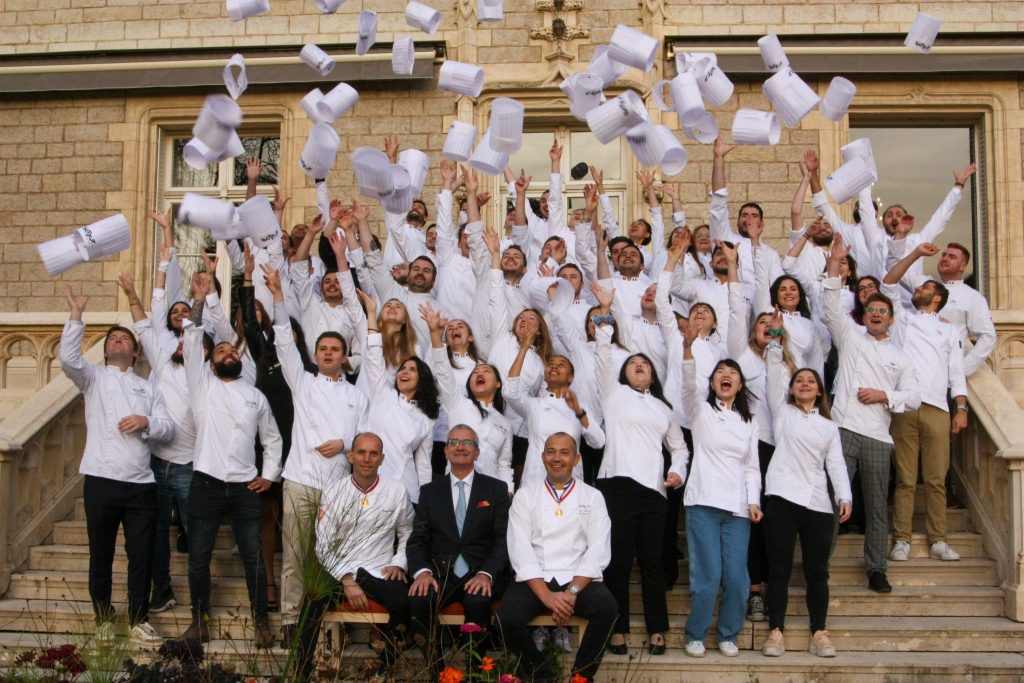 AN UNFORGETTABLE CEREMONY
Graduate students and their families met at the Amphithéâtre 3000 at the Lyon Convention Centre for the unforgettable formal ceremony. The event concluded with the traditional presentation of sashes to each of the young graduates and allowed them to be at the heart of the Institut Paul Bocuse experience one last time. Featuring official speeches by the management, members of the teaching team and class patrons, as well as performances by dancers and singers and lots of laughter and emotion, the graduates and their families attended a unique graduation ceremony that will remain forever etched on their memories.
Experience the ceremony through the video highlights:
PATRONS FOR THREE EXCEPTIONAL YEARS
DAVY TISSOT, BOCUSE D'OR 2021, CLASS PATRON FOR CULINARY ARTS
Bocuse d'Or 2021 as well as a Chef-Trainer at the Institut Paul Bocuse and holder of a Meilleur Ouvrier de France medal, Davy Tissot agreed to become the patron of these three fantastic years of graduates in Culinary Arts. Chef Tissot earned his stripes as a chef at Terrasses de Lyon, the Michelin-starred restaurant at La Villa Florentine, and later at the gourmet restaurant at the Institut Paul Bocuse, Saisons. Here he earned the restaurant its first Michelin star, making it the first educational restaurant in France to receive such an accolade. Chef Tissot embodies ambition, and will undoubtedly guide and inspire our young graduates throughout their professional lives.
NICOLAS BELLATON, 2002 GRADUATE AND PRESIDENT GLOBAL OPERATIONS JUMEIRAH HOTELS & RESORTS
Nicolas Bellaton is a point of reference in the field of international hospitality. Currently President of Global Operations with Jumeirah Hotels & Resorts in Dubai, he graduated in 2002 with a Bachelor's in International Hotel Management from the Institut Paul Bocuse. His career between graduation and his current position has included roles with luxury residences, time spent running his own business, and a return to hospitality with the renowned Four Seasons group, where he worked in France and internationally. Today, he has agreed to act as patron to three year groups full of talent, and to put his experience and indomitable character at their service.
---
The mission and promise of the Institut Paul Bocuse is to provide a unique experience. From induction week through to graduation, every day is a new experience that guides our students to discover and capitalise on their talent in order to build their future. If you'd like to take part in the adventure, come meet us!