Lifestyle Hospitality Management specialisation
The Lifestyle Hospitality Management specialisation offers you the opportunity to discover the new trends and technologies that are transforming the hospitality sector, equipping you with the know-how and inspiration to create inimitable and personalised customer experiences.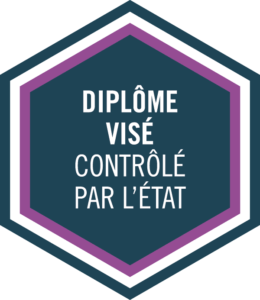 Degree in Hotel and Restaurant Management (4-year) registered and approved by the Ministry of Higher Education and Research*.
*Publication in the Official Bulletin n°31 on 29 August 2019
Qualification: Bachelor (Hons.) State Certified Level II Qualification
Length: 7 months full-time (60 ECTS)
Languages of instruction: French/English
Start date: January 2023 
Entry requirements: We welcome applications from anyone who has completed a 3-year higher education degree or equivalent
Careers: Boutique-hotel manager, Business developer, Hotel concept creator, Marketing manager, Trends hunter
Reinvent the hotel experience
The hotel and restaurant industry is entering an unprecedented era of instant change and personalised customer experience, where digital design and innovation are ubiquitous. New forms of competition are emerging, pushing the more traditional actors in the hotel industry to adapt, which is opening up a myriad of new career opportunities and new horizons.
Lifestyle hotels provide a renewed response, with new customer expectations by placing it at the center of the experience through personalization, user-friendliness and technology.
As a lifestyle hospitality management specialist, you'll be perfectly equipped to manage and create new products or services to help you provide a better-quality customer experience that is both personalised and seamless. The welcome, the style, the entertainment dimension as well as Food & Beverage will contribute to creating an atypical offer whatever the market segments, from economy to luxury.
---
Course overview
Experiential living spaces – more than just hotels or restaurants
This unique specialisation will enhance your vision of lifestyle hospitality services, offering you an insight into the strategic dimensions of the business by further developing your knowledge and skills in brand management, concept creation, trend analysis, design and new technologies.
We'll give you plenty of opportunities to experience a wide range of sectors within the industry, such as eco-responsible hotels, wellness tourism, or hospitality services targeting the Gen Z.
Course features*
*Given only as examples
Market intelligence and trends
Socio-psychology and Lifestyle
Architecture, Design & Scenography
Pricing and distribution
Sensory approaches and design service
Well-being and senior accommodation
Collaborative economy, sustainability in lifestyle hotels
Optional work placement at the end of the course
I chose the Lifestyle Hospitality Management specialisation in order to discover the new trends in the hotel business, to meet creative and passionate professionals, to discover hotel management methods in a foreign country but also to have the necessary tools to adapt to the world of tomorrow in our future career.

Guillaume Montrocher-Ober – Specialisation Lifestyle Hospitality Management
---
Why choose us?
Together we'll push back the frontiers of imagination
Be part of a unique learning experience: we are the only school to offer a specialisation specifically focused on this particular sector.
We'll give you the opportunity to interact and work with the top names in the industry during 2 applied creative project.
Get involved now in a promising lifestyle hospitality sector inspired by major societal trends.
Become a game-changer by offering innovative new approaches to customer relations and customer experience.
Build yourself an inspirational and international future: 70% of our graduates start their career overseas working in 80 countries. 33% choose an entrepreneurial career within 5 years.
---
What are the opportunities for further study?
---
YOUR FUTURE WILL AMAZE YOU
VARIED PROFESSIONAL PROSPECTS AND INSPIRING CAREERS
Boutique-hotel manager
Lifestyle Brand Manager
Trends Hunter
Business developer
Creator of hotel concepts
AS WELL AS…
Marketing manager
Guest experience manager
Consultant
---