Luxury Hospitality Management specialisation
The specialisation in Luxury Hospitality Management explores the very meaning and substance of what luxury represents. This course will equip you with the skills to become a manager in an increasingly demanding exclusive professional environment.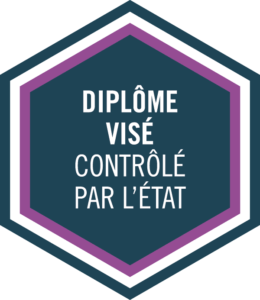 Degree in Hotel and Restaurant Management (4-year) registered and approved by the Ministry of Higher Education and Research*.
*Publication in the Official Bulletin n°31 on 29 August 2019
Qualification: Bachelor (Hons.) State Certified Level II Qualification
Length: 7 months full-time (60 ECTS)
Languages of instruction: French/English
Start date: January 2023
Entry requirements: We welcome applications from anyone who has completed a 3-year higher education degree or equivalent
Careers: Luxury hotel manager, Luxury brand manager, Deluxe resort manager, Private property manager, Yield manager
Managing the world's very best
Because luxury is the ultimate expression of refinement and the love of beauty, it continues to arouse the desire of clients in the search for exceptional environments.  In what is a particularly competitive environment, high-end hotels and restaurants need to differentiate themselves clearly by creating exclusive experiences.
With a global market growing by 21% in 2022, the sector is recruiting increasingly well-trained talent.
The Luxury Hospitality specialisation will give you the keys to understanding, creating and managing value as expressed in the luxury hotel and restaurant sector, to work in the most prestigious establishments in the world.
---
Course overview
Become a leader in the luxury hospitality sector
Our programme will equip you with an in-depth understanding of all the luxury market segments and codes, from palaces to new destinations, wellness centres and fine-dining restaurants. 
Thanks to our innovative teaching methods based on active learning, study tours and practical projects, you will master the hands-on expertise needed to manage and shape luxury. You will also develop many personal skills: rigour, integrity, attention to detail, analytical skills, all of which are sought after in many sectors of the economy.
COURSE FEATURES*
*Given only as examples
Luxury contexts: luxury environment, market strategies and consumer behavior
Luxury Brand Management
Design Luxury Experience
Gastronomy and wine
Market intelligence and trends
Strategic and operational management applied to luxury
Management of wellness establishments
Performance management: pricing strategy, asset management, talent development
Luxury destination creation
Optional work placement at the end of the course
---
Why choose us?
We will teach you to develop sociological and behavioural approaches for understanding luxury and unlocking new opportunities.
Benefit from expert speakers from the luxury industry.
Our programme taught in French and in English will reinforce your bilingual advantage.
With 72 different nationalities represented on campus, you will benefit from a culturally diverse student body.
Build yourself a solid and international future: 80% of our graduates' first jobs are as managers, moving up quickly to senior management positions. Nearly 70% begin their career overseas.
---
WHAT FURTHER STUDY OPTIONS ARE AVAILABLE?
---
YOUR FUTURE WILL AMAZE YOU
VARIED PROFESSIONAL PROSPECTS AND INSPIRING CAREERS
Luxury Hotel Manager
Luxury Brand Manager
Cruise industry or resort manager
Guest relations manager
Sales & marketing manager
AS WELL AS…
Consultant
Luxury concept designer
Private club manager
---