YOUR WELL-BEING, OUR PRIORITY
We firmly believe that educating our students must go hand-in-hand with a global approach to their personal, physical and psychological well-being. Since your professional development is directly connected to your personal development, a team is on hand to ensure your well-being throughout your studies.
AN OPEN CAMPUS, A SCHOOL OF LIFE
Sport
Institut Lyfe offers you a dynamic and lively campus. We actively support student involvement in sports. The various activities offered within or outside the campus, offer you the opportunity to recharge your batteries, relax, improve your skills in a particular area, or discover new ones.
Culture
Our student musicians come together in a pop-rock cover group, enjoying rehearsing together and "setting the mood" for campus events. We regularly organise cultural masterclasses within the school (theater, singing) on weekends, to open up new horizons for enthusiasts!
At Institut Lyfe, student life is filled with passion and emotion!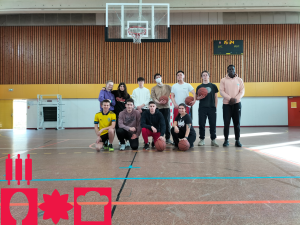 CULTIVATE YOUR WELL-BEING
While student days are often a magical period in your life, at times they can also be synonymous with stress, isolation and unexpected life events. The Feel Good system set up by our campus service aims to ensure harmony and balance over your years of study, focusing on prevention and orientation towards appropriate solutions. No issues are taboo!
It offers global care for students thanks to a multidisciplinary team of external professional partners:
A psychologist is available for remote or face-to-face consultations.
Sophrologist: based on breathing and relaxation, sophrology allows you to develop your own ability to better manage your emotions.
A professional yoga, reiki & energy therapist, who supports the Team France Bocuse d'Or when preparing for competitions, is available for students.
The school takes care of the first three sessions, and each practitioner is able to provide appointments in English for all of our international students.
Thanks to our partnership with the neighbouring Isosteo school of osteopathy, you can take advantage of osteopathy sessions throughout the duration of your course.
You will also receive a newsletter with health & nutrition tips each month.
INVEST IN ASSOCIATIONS AND YOURSELF!
Institut Lyfe offers you a wide variety of associations, to strengthen the values of mutual support and solidarity that are essential for the development of each student. The Institut Lyfe is home to multiple associations, all you have to do is choose the one that ignites your passion!
A TEAM OF TALENTED MANAGERS TO SUPPORT YOU
The Institut Lyfe Talent Managers will support you in defining your professional pathway and placements, as well as boosting your employability. They will assist in developing your self-confidence, and expressing your emotional intelligence. At Institut Lyfe, there is no standardisation, our support is personalised according to your needs and abilities.
---
IT'S TIME… FOR RESPECT
Institut Lyfe promotes harmonious human relations and is committed to respecting the values it holds high, for a society that respects all individuals, without exception.
We are the first hotel school to have set up a 360° engagement system: the #TimeForRespect system provides a safety framework, prevents and penalises inappropriate behaviour, whether in the form of violence, harassment, discrimination, etc.
The system consists of:
A relational and behavioural charter that engages our entire community: students, teachers, stakeholders and partners, around the fundamental values of altruism and respect. More than 1,000 institutions have already signed up, as have our placement students. 
A vigilance committee at your disposal, a multidisciplinary working and monitoring group which receives reports on issues, processes them, and decides on the sanctions to be applied where necessary.
Training before the start of placements, to be able to identify inappropriate behaviour and know how to respond.
---
Institut Lyfe supports students with disabilities
The PAEH (support plan for students with disabilities) is a framework that allows students with disabilities to access the necessary adaptations, based on their needs, in order to complete their higher education (adapted equipment, note taker, extra time, etc.).
If you have a disability, you can anticipate and prepare for the start of your course by indicating your condition on Parcoursup. More info on https://www.monparcourshandicap.gouv.fr/etudes-superieures/comment-anticiper-et-preparer-votre-rentree