COMBINE THE DESIRE TO LEARN AND A JOY FOR LIFE
Enjoy every moment of your student life and build your future on a strong foundation of human relationships.
A SCHOOL WHERE PASSION MEETS EMOTION
Throughout the year, the Feel Good Campus team, our official supplier of good vibes, has a host of events in store for you.
Fresher's week (and a pre-start seminar for international students) to get to know your new environment, your fellow students, and build a strong community spirit through team building, the Lyon discovery rally, a Grand Banquet, an integration weekend and more.
A moving and spectacular graduation ceremony. An unforgettable evening, surrounded by your loved ones.
Sports tournaments and inter-school events organised with the other schools of the Lyon-Ouest Campus (CLOE) including emlyon business school, Lyons Ecole Centrale.
Events with a positive impact: sustainable development week, week against waste, Giving Tuesday, etc.
"VOXX" conferences (Voices of Openness, eXpertise and eXcellence) to expand your vision of the world.
Events with our graduates, who come back to share their journey and experiences.
Our school is HappyIndex®AtSchool 2022 certified. 100% participatory and transparent, this certification issued by ChooseMyCompany rewards quality and the student experience according to 5 criteria: facilities/environmental impact, teaching/pedagogy, student life, relations with business, confidence in the future.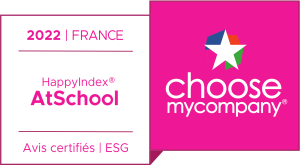 For more information: Institut Lyfe – HappyIndex®AtSchool 
Institut Lyfe (formerly Institut Paul Bocuse) has also obtained "Welcome to France" Label, awarded for 4 years by Campus France. This rewards the quality of its welcome for international students.
---
GOOD VIBES THURSDAY: INSPIRE, EXPRESS
At Institut Lyfe, you never have time to get bored. A multitude of sports and activities allow you to maintain a healthy study-life balance on a daily basis. Thursday afternoons are dedicated to sports for 1st year students. Choose from:
Tennis: a great way to challenge yourself both physically and mentally;
Football: to develop your team spirit;
Yoga: to relax and improve concentration;
Cross training: to push your limits;
Basketball: to feed your competitiveness and improve agility;
Climbing: to reach the peaks and break down your mental barriers;
A range of sports can be made available according to your requests and preferences.
---
CULTURAL MELTING POT
A host of cultural happenings bring the school to life on a daily basis. Music, singing, dance, theater or painting – our students have a wealth of opportunities to uncover their artistic talents and discover new horizons.
---
ASSOCIATIONS AS A TRAINING GROUND
At Institut Lyfe (formerly Institut Paul Bocuse), we place special importance on participation and associations, to strengthen the values of mutual support and solidarity that are essential for the development of each student.
Being curious, passionate, open to the world and to others, shaking things up: we encourage our students to get involved in the community life of the school and lead meaningful projects, either by joining one of the existing associations or setting up a new one.
Being part of a student association means gaining an early foothold in the professional world by developing valued skills for your CV: teamwork, budget management, decision-making, etc.
Your associations:
BDE (student office)
BDS (sports office)
Trait d'union (association for solidarity projects)
Eco-Campus (sustainable development association)
Les Pépins (wine club)
---
Become an Ambassador
You will have the opportunity to join our community of ambassadors and develop valuable soft skills. You will actively participate in guiding young high school students and future students in their choice of training.
Our students are available to chat peer-to-peer via our website. They represent the school at open days, fairs or talks in high schools.