LYON, A STUDENT CITY WHERE LIFE IS GOOD
Lyon, the capital of gastronomy and a UNESCO World Heritage site since 1998, is a city that boasts an ideal location along with a unique environment and quality of life. Located at the heart of Europe, amidst lakes and mountains for dream weekend activities, Lyon is listed in the prestigious New York Times annual international selection of the top 50 places to visit. 
The former capital of the Gauls will charm you with its dynamism and its countless activities: museums, festivals, concerts, shopping, theatre, opera, monuments, cinemas, parks, and much more.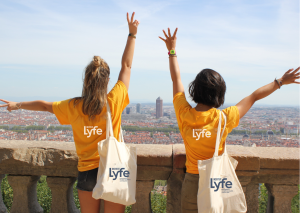 More than 21,000 cultural and artistic events are organised in the bustling metropolis every year. Some of the unmissable events include: Nuits Sonores (music festival), the Lumière Festival (film festival), the Street Food Festival, the Biennale de la Danse (dance event), the Fête des Lumières (light show), Nuits de Fourvière (cultural festival), Woodstower (music festival), etc.
With 180,000 students, including 15,000 international students, Lyon is an unreservedly  "student friendly" city which ranks among the top student cities in the annual awards of the Étudiant student magazine and has earned international recognition as the top-ranked French city, beating Paris, and sits 19th in the Time Out Index 2022 of the Best Cities in the World.
Discover the city though the eyes of some of its instagramers: igerslyon, Lyonfoodies, onlylyon.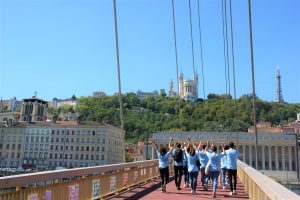 ---
LYON, an engaged business METROPOLIS
Lyon is also the top business-friendly city in France, and a major economic hub in Europe. An accessible metropolis, Lyon is a pioneer in digital innovation, and is dynamic yet respectful of its heritage and environment.
The city attracts nearly 1.5 million visitors each year and has been named as a leader in responsible tourism in France by the GDS-Index 2021, which rewards cities that have sustainable and responsible tourism strategies.
Studying in Lyon opens the door to unique professional opportunities and placements.
Lyon also benefits from a highly developed transport network. The TCL network covers the entire agglomeration with 130 bus lines, 4 metro lines, 3 funiculars and 5 tram lines.
Lyon Saint Exupéry airport offers more than 100 destinations and the city's two train stations are connected to the whole of France, as well as Spain, Luxembourg, Germany, Italy and Switzerland.
In two hours you can reach the coast, Mont Blanc, Paris or Geneva.
---
DAILY LIFE
WHAT BUDGET SHOULD I EXPECT?
In addition to tuition fees, higher education involves costs that it is important to evaluate and anticipate. We can help you to estimate your budget. Plan for a monthly budget of €800 to €950.
Main expenses:
Accommodation: €400 to €700/month
Food: €150 to €200/month
Electricity/gas/water: €50 to €150/month
Telephone/ internet: approx. €25/month
Transport: TCL subscription €25/month
Leisure and going out: approx. €50/month
Things to see and do
Find all the cultural activities and information on Lyon on culture.lyon.fr
Guide to restaurants, bars, clubs, markets in Lyon: lebonbon.fr
Blog for Lyon residents looking for news on things to do: lyon.citycrunch.fr
Excursions and going out: https://www.petitpaume.com/
Recommendations for students in the city of Lyon on Lyon Campus
Discover Lyon: www.onlylyon.com