Teaching method and innovation
Thinking of today and tomorrow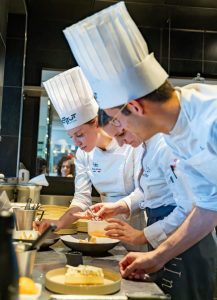 Choosing Lyfe (formerly Institut Paul Bocuse) means choosing a graduate school with a strongly rooted identity. It means joining an iconic business school of the highest level "à la française", which blends the traditional and the cutting edge, and is recognised by the French Ministry of Higher Education and Research. It means choosing an institution that is in tune with the expectations of professionals in the tourism-hospitality-food service sectors, and which stands out thanks to a training offering in international management ranging from Bachelor's to Doctorate level, with more than 30 possible pathways.
Discover your course and curriculum options
---
Our educational hallmark
Our educational singularity has always been based on an innovative teaching method centred around project management, creativity and fostering talents in an intrapreneurial and entrepreneurial context. Unique training scenarios allow for the implementation of experiential learning which alternates practice and theory for in-depth exploration and a 360° managerial view of our professions.
Our courses bring you threefold skills – managerial, technical and sectoral – and aim to develop soft skills such as empathy, emotional intelligence, kindness, adaptability, integrity, courage and resilience, which are essential factors in success today.
We use a blend of different approaches: flipped classrooms, gamification, collaborative and creative projects, business case studies, and real-life situations to promote "Learning by Doing".
Experience real-life conditions
Apply theoretical concepts to better understand them with a unique implementation environment: a 5-star hotel-school, a student hotel-residence, a 4-star boutique hotel, a B&B hotel, three training bars, a tasting cellar, six training restaurants, including a Michelin-starred restaurant, and one multisensory immersive room.
Because the companies of tomorrow are collaborative, we encourage group projects during which you will kindle your creative and entrepreneurial spirit: creation of a pop-up restaurant or patisserie, creation of a new hotel brand, a consulting mission, participation in major events (Sirha, "Grands Chefs" lunch at the Elysée Palace, etc.).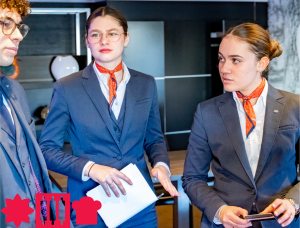 DigiTal technology at the service of teaching
In an era of globalisation and the digitalisation of trade, digital technology is integral to all areas of society. We employ technological tools adapted to the new uses and needs of students, to promote engagement and make them stakeholders in their learning
An LMS (Learning Management System) allows our faculty members to design, create and present educational courses for face-to-face, distance or hybrid learning, as well as digitalisation of courses.
A Business Game simulation allows all of our students in International Hospitality Management and International Food Service Management to learn, in a fun and interactive way, how to lead and manage a virtual company in a fictitious competitive market, with the leader in serious games, CESIM Elite Tournament.
To strengthen the learning process, our culinary students have an online video library of 220 technique tutorials in French and English at their fingertips. These can be consulted prior to face-to-face courses, where students can then dive deeper into the concepts with the trainer in person.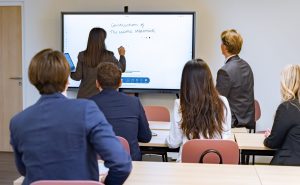 Our new castle, the Château de la Roseraie, is equipped with 22 connected classrooms equipped with interactive whiteboards, feedback screens and videoconferencing. The modular furniture means the layout can be adapted for various teaching formats. There is also a dedicated recording studio for teachers.