Institut Lyfe (formerly Institut Paul Bocuse) is at the heart of a powerful network of international, professional and university strategic alliances.
Our GOVERNANCE of directors: Leading by example
Our Executive Committee, chaired by Gilles Pélisson, and the college of our associated partner members is made up of people from multinationals and international family-run businesses involved in the hotel, restaurant, tourism, food, tableware and food health & safety industries.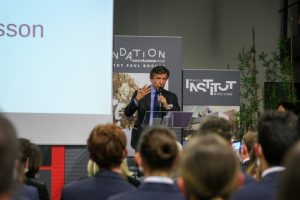 Together, we assess and create the curricular models of the future.
Executive Committee members
Gilles Pélisson, President
Gérard Pélisson, Honor President
Sylvie Pélisson, Institut Lyfe Foundation President
Maud Bailly, Partner Associate Members Representative 
Jean-Luc Grisot, Partner Associate Members Representative 
Philippe Morin, Partner Associate Members Representative 
Laurent Sacchi, Partner Associate Members Representative 
Philippe Sans, Partner Associate Members Representative 
Paul-François Vranken, Partner Associate Members Representative 
Eléonore Vial, Academin Director
Dominique Giraudier, CEO
GENERAL MEETING MEMBERS
Maud Bailly
Managing Director Southern Europe
Philippe Sans
Chairman and CEO 
Jean-Pierre Blanc
CEO
Gianfranco D'Amico
CEO
Olivier Passot
Chairman and CEO
Nicolas Liabeuf
Chairman and CEO

Philippe Barret
  CEO
Philippe Morin
Sales and Marketing Director Bridor
Laurent Sacchi
Executive Vice-President

Christophe Litvine
Global Account Director Food Service Retail

Thierry de la Tour d'Artaise
Chairman and CEO
Lionel Blouin
CEO France Benelux
Jean-Luc Grisot
CEO
Vincent Arnaud
CEO Hotel & Restaurant

Frédéric Galliath
CEO
 Paul-François Vranken
Chairman
Maxime Bontoux
Chairman
Philippe Gombert
International Chairman
Robert Guillet
Senior Vice President
Olivier Monin
CEO
Ryma PROST-ROMAND
Chairman
Cécile Daquin
CEO
Emmanuel Dubs
CEO
Erick Lelouche 
Animal Health President
Jérôme Wolff
CEO
Hervé Pélisson
Jean-Paul Lespinasse
Stéphanie Rollin
CEO
Olivier Pelat


François Dubrule

Sven Boinet
CEO
Villeroy & Boch

 
---
Our advisory boards: a unique pool of expertise and talent
The performance committee brings together professionals from the sector, as well as students, in order to bring the programs closer to the realities of the sector.
Within this committee:
For International Pastry Management, the committee members are Marie Simon, François Perret, François-Xavier Guilet and Mathieu Dalmais.
For International Hospitality Management, the committee members are Julien Bardet, Timothé Hainguerlot, Mathilde Plegat and Cyril Aouizerate.
For International Culinary Arts Management, the committee members are Yannick Alleno, Nadia Sammut, Anne-Sophie Pic, Jean Imbert and Davy Tissot.
---
Supported by leading experts highly regarded by the entire industry, and a genuine network of partners, we have 5 strategic committees dedicated to hospitality, innovation, entrepreneurship and research.
Leading experts and specialists meet regularly to discuss different topics. Their reflections and exchanges stem from the most current thought-provoking issues in their respective fields. They help make Institut Lyfe an essential vehicle for the advancement of knowledge.
INTERNATIONAL CHEFS ADVISORY BOARD – chaired by Daniel Boulud
BOCUSE & CO COMMITTEE – Yannick Alléno
TASTING ARTS COMMITTEE – Olivier Poussier
RESEARCH COMMITTEE – Catherine Rouby
HUMAN RESOURCES COMMITTEE