A unique training and research ecosystem
Inspired by two visionaries, Paul Bocuse and Gérard Pélisson, Institut Lyfe (formerly Institut Paul Bocuse) was born from passion: a passion for our professions and a passion for conveying knowledge to future generations. We pass on our craft with the same objective of elegantly transmitting exceptional know-how and the bold spirit needed to conquer numerous professional horizons, providing the opportunity – for everyone – to train in rich, human and exciting professions.
Since 1990, we have been custodians of French know-how, cultural heritage and the art of hospitality at their highest levels of excellence, nourished by a unique ecosystem within the Grandes Ecoles higher education panorama.
Initial training
The only French post-baccalaureate school with an international dimension to welcome 72 nationalities on its campuses, Institut Lyfe offers its 1,200 students an unparalleled multicultural and experiential ecosystem on a campus encompassing 17,000 m2 of modern, fully equipped infrastructure, set within 2 castles surrounded by a green oasis.
Proud of its territorial roots in Lyon, Institut Lyfe (formerly Institut Paul Bocuse) is a professional school of international excellence, aiming for the academic standards of a top business school.
Our teaching, from Bachelor's to Master's Degree & MSc level, is based on innovative and experiential methods centred on project management, revealing talents, entrepreneurial spirit, and creativity.

As a non-profit association under law 1901, our school is recognised by the French Ministry of Higher Education and Research with our certified Bachelor's in International Management.
---
Adult training centre
A melting pot of talents and technical and managerial expertise, Institut Lyfe (formerly Institut Paul Bocuse) is also at the service of innovation and the development of professional skills throughout the lifetime of people and businesses through audit and consulting services, professional development, career change, executive education programmes. Our professional training centre for adults is Qualiopi certified and holds H+ certification, and welcomes more than 400 professionals every year.
It also supports a range of countries in their development projects, at the request of public and private institutions.
A research centre for the transition towards sustainable food
Our Research Centre, which is unique within higher education institutions for hospitality and food service, combines multidisciplinary scientific research and innovation.
Since 2008, the scientific work carried out here has contributed to the sustainable food transition that aims to meet the challenge of attaining a tasty, healthy and sustainable diet for all and in all contexts, contributing to improving the well-being of populations, regardless of age and for every meal and situation.
It contributes to the evolution of culinary and managerial practices and to the quality of our teaching with a forward-looking vision of professions within the hospitality industry.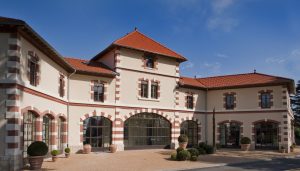 COOKERY SCHOOL FOR ENTHUSIASTS
To uncover the talents of every gastronomy enthusiast, our Gourmet Cooking School offers cooking, bread making, patisserie, sommelier, coffee, tea and cheese workshops.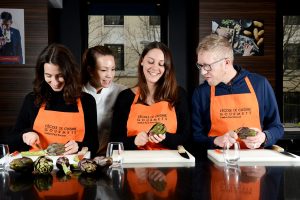 ---
Learn more